Another week, another record for Megan Cole.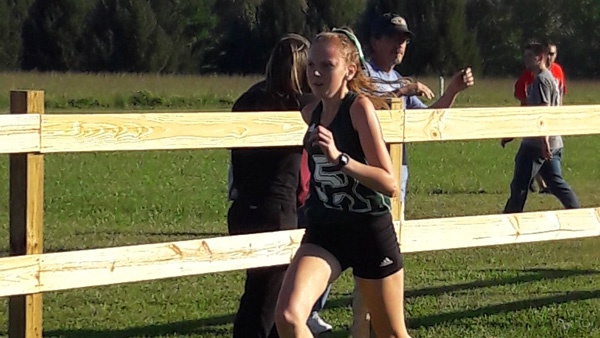 Megan Cole. File photo.
(Versailles, Ind.) - Two record-setting performances helped Megan Cole and Cloey Simon earn Ohio River Valley Conference weekly honors.
The ORVC report for the week of April 15-20 was released on Wednesday.
South Ripley's Megan Cole and Jac-Cen-Del's Cloey Simon both earned ORVC Girls Track & Field Performer of the Week.
For Cole, she set a new meet record in the 3200 meter run with a time of 11:31, while Simon set a Jac-Cen-Del record in the low hurdles, clocking in at 48.80 seconds.
The ORVC Boys Track & Field Performer of the Week went to Southwestern's Mitchell Cline.
Switzerland County's Zach Weaver and Southwestern's Zach Cole shared ORVC Baseball Player of the Week honors.
Weaver collected six hits, four runs, and three RBIs at the plate last week. He also got a win on the mound going seven innings with six strikeouts.
The ORVC Softball Players of the Week were Rising Sun's Sydney Pitts and Jac-Cen-Del's Nadya Hildebrand.
Pitts pitched 14 innings, racking up 16 strikeouts. The Lady Shiners star also scored five runs, had three RBIs and two hits at the plate. Hildenbrand tallied six runs, five hits, two doubles, a home run and a stolen base in three games.
Shawe Memorial's Chandler Cole is the ORVC Boys Golfer of the Week after shooting 41 at Sunrise.
Other top performers for the week of April 15-20 are listed below.
BASEBALL
Bryer Franklin (SR) 3 hits, run in 2 games
Trent Burford (SR) 2 hits, RBI in 2 games
Bryce Franklin (SR) 7 2/3 IP, 3 hits, 2 runs, 0 ER, 14 K's in 2 games
Zach Cole (SW) 4-10, 6 RBI, 2B / 3 1/3 IP, 0 ER, 7 K's last week
Foster Mefford (SW) 4-9, 4 runs / 2 IP, 0 ER, 4 K's last week
Tyler Kramer (SW) 5-13, 7 runs, 3 RBI, 2B last week
Patrick Stow (SC) 4 runs, 3 hits, RBI, 2B in 2 games
Cade Rider (SC) 3 hits, 3 runs, 2 RBI, 2B, SB in 2 games
Brayden Bush (RS) GC shutout with 8 K's
Landon Cole (RS) GC shutout with 6 K's
Jacob Bovard (RS) 4-6, 6 SB, 4 runs in 3 games
Grayden Taylor (M) 5 runs, 4 hits, 2 RBI, 2 2B / 6 IP, 4 hits, run, ER, 7 K's going 1-2
Adam Norman (M) 5 hits, 3 RBI, 2 runs in 2 games
TJ Menchhofer (JCD) 4 hits, 3 RBI, 2 runs in 2 games
Logan Drockelman (JCD) 4 hits, 3 RBI, 2 runs, 2B in 2 games
Dylan Swinney (JCD) 3 hits, 2 runs, 2 RBI in 2 games
Chris Powers (SM) 3-7 with 3 RBI last week
SOFTBALL
Regan Carroll (JCD) 7 hits, 4 runs, RBI, 2B in 3 games
Andrea Cullen (JCD) 20 IP, 11 ER, 7 K's going 2-1 last week
Madesyn Byrd (SC) 3 RBI, 2 hits, 2 runs vs. Providence
Maddie Duvall (SC) 4 runs, 2 hits, RBI vs. Providence
Ellie Waldron (SR) 4 hits, 2 RBI, 2B / 6.3 IP, 6 runs, 4 ER, 11 K's in win
Madelyn Tompkins (SR) 3 hits, 3 runs, 2 RBI, 2 2B in 2 games
Halee Smith (SR) 3 hits, 3 runs, 2B in 2 games
Abby Ralston (SW) 6 hits, 4 runs, 2 2B, 2 SB, RBI in 3 games
Abby Fulton (SW) 4 hits, 3 RBI, 2B in 3 games
Sydney Bostic (RS) 5 RBI, 4 hits, 4 runs, HR, 25 putouts last week
Cora Poling (RS) 4 hits, 4 RBI, run, SB, 3B, 17 putouts last week
BOYS GOLF
Henry Hoffman (RS) 42 @ Rising Star
Matt Schmidt (M) 43 @ North Branch
Parker Lewis (M) 46 @ North Branch
Jack Grote (SM) 57 @ Sunrise
BOYS TRACK GIRLS TRACK
Mark Adams (SR) 116'5" Discus Cierra Copeland (SR) 92'5"
Mark Adams (SR) 42'3½" Shot Put Cierra Copeland (SR) 32'8¼"
Adrian Peetz (JCD) 18'11" Long Jump Grace Bujak (M) 13'11"
Jacob Elliott (SR) 6'0" High Jump Wilhoit (JCD)/Bailey (M) 4'10"
Daniel Daugherty (RS):16.28 High Hurdles Cloey Simon (JCD) :17.80
Nathan Hoffman(JCD) :38.28 Low Hurdles Cloey Simon (JCD) * :48.80
Cline (SW)/Cavins(M) :11.76 100 Kinsey Price (RS) :13.40
Mitchell Cline (SW) :23.12 200 Ashton Goode (SW) :28:54
Mitchell Cline (SW) :50.15 400 Kinsey Price (RS) 1:04.5
Gavyn Mundt (SW) 2:13.18 800 Lanie Nicholson (SR) 2:38.7
Bradley Winston (SW) 4:49.58 1600 Megan Cole (SR) 5:26.1
Damon Hughes (JCD) 11:23 3200 Megan Cole (SR) ** 11:31
Jac-Cen-Del :49.23 400 relay Jac-Cen-Del :49.40
Southwestern 3:44.46 1600 relay Southwestern 4:38.4
Southwestern 9:18.11 3200 relay South Ripley 11:17