Cincinnati native Patrick Cosgrove takes over for Matthew Colston, who stepped down at the end of the school year.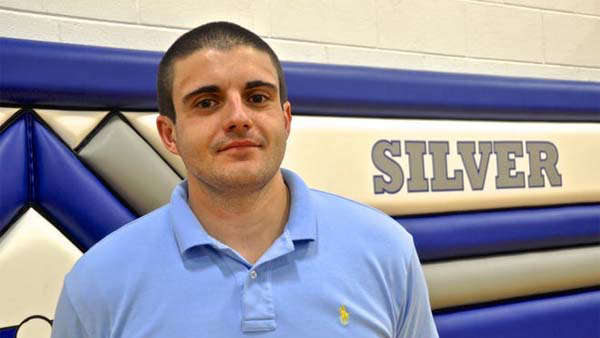 Patrick Cosgrove. Photo provided.
(Aurora, Ind.) - South Dearborn High School has a new boys varsity basketball head coach.
Athletic director Ryan Walston tells Eagle Country 99.3 that Patrick Cosgrove has accepted the position pending school board approval.
Cosgrove replaces Matthew Colston, who stepped down as head coach at the end of the 2021-22 school year to pursue a job at the collegiate level.
Colston led the Knights to a 27-20 record over his two years as head coach, including two Rivertown Classic titles.
Coach Cosgrove comes to South Dearborn with plenty of coaching experience. He started his coaching career at the age of 20, serving as an assistant for many years before transitioning to a head coach. Cosgrove had great success at Summit Country Day, where he led the Silver Knights to 94 wins in five seasons. Summit won three Miami Valley Conference championships, two district championships and made two regional final appearances.
In 2017, Summit went 26-1 and Cosgrove was named the Division III Southwest Ohio Coach of the Year.
Most recently, Cosgrove coached two seasons at Colerain between 2019 and 2021, where he increased their win total from year one to year two with zero returning varsity players in his first year. He also graduated 100 percent of his seniors over the two-year span, something that had not been done in a decade at Colerain.
Cosgrove spent last season at Spencer Center High School.
At South Dearborn, Cosgrove hopes to bring stability to the program. There have been seven different head coaches at South Dearborn over the last 18 years. The longest tenured coach in that stretch was Rick Shumate, who stuck around for four seasons between 2011 and 2015.
"This is not a steppingstone for me. This is not a rung on a ladder. I don't think anyone can make a promise to be somewhere for 20 to 25 years. But in my mind, this is a destination job for me," said Cosgrove.
Upon entering the South Dearborn High School gymnasium during his interview, Cosgrove said South Dearborn "felt like home."
"It's Indiana basketball, said Cosgrove." As an Ohioan, a Buckeye, a Cincinnati native there's not many opportunities to get in the Hoosier state. That's where I learned the game. I grew up basically spending all my summers in Indiana at various points."
Cosgrove has learned quite a bit from his uncle, Cliff Hawkins, who is the 8th winningest coach in the state of Indiana racking up 543 wins over 41 years. Hawkins is currently in his fourth season at Tipton.
Cosgrove will inherit a South Dearborn team that went 14-8 last season. The Knights lost five seniors to graduation including 1,000-point scorer Eli Hoffman, Rivertown Classic MVP Reese Willoughby, Corbin McHenry, Drew Probst and Evan Meek.
Incoming senior Ryan Willoughby is the Knights' top returning scorer at 10.3 points per game. Brodie Teke, Hudson Shackelford, Adam Kunkel, Reid Thornton, Adam Gainor, Jake Daugherty and Peyton Hill all played varsity minutes a season ago.
Coach Cosgrove says playing style will be dictated by personnel from year to year, but ideally his South Dearborn teams will hang their hat on the defensive end, own the backboards, and put "offensive pressure" on oppositions by scoring or getting set quickly.
"I am extremely excited and thankful for the community and their confidence in me. I'm going to try and do everything I can these next couple of days to get in front of as many people as possible so they can see me and get to know me a little bit. I'm really looking forward to getting my family out there and having them met the community and the community meet them. I'm just super thankful for the opportunity and we are going to do everything we can as coaches to give the community a winning basketball team," said Cosgrove.