Price is a two-time captain and four-time All-ORVC selection.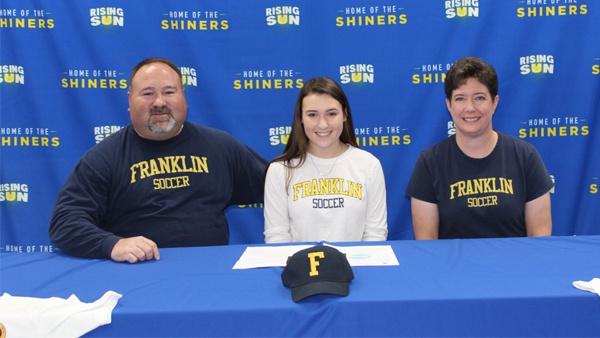 Kinsey Price signs her letter of intent to play soccer at Franklin College. Photo by Rising Sun Athletics.
(Rising Sun, Ind.) – Another Rising Sun Lady Shiners soccer star has made her college declaration.
Kinsey Price signed her letter of intent on December 20 to continue her academic and athletic career at Franklin College.
This comes after teammate Sydney Pitts signed to play at Thomas More University on November 27.
For Price, she was a two-year captain and a four-time All-ORVC selection. Price is also a member of the Tempest Revolution, who are currently two-time defending Indiana Presidents Cup Champions.
At Franklin, Kinsey plans to study Secondary Education with a concentration in English and History.
RELATED STORIES:
Rising Sun Soccer Star Sydney Pitts Commits To Thomas More