The EIAC MVP is headed to Ohio to play college ball.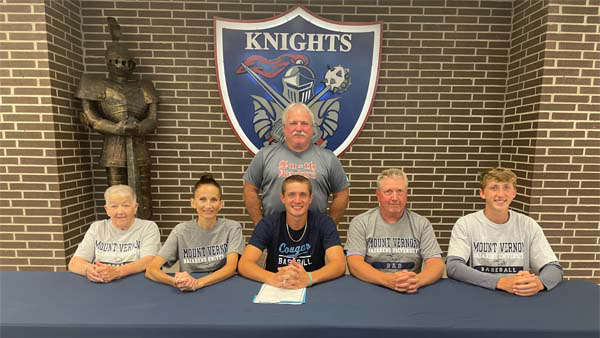 Pictured: Grandmother Karen Petty, mother Jennifer Willoughby, Reese, father Scott Willoughby, and brother Ryan Willoughby. Standing is SDHS head baseball coach Jay Malott. Photo by South Dearborn Athletics.
(Aurora, Ind.) - Three-sport star Reese Willoughby will continue his academic and athletic career at the collegiate level.
Throughout his four years at South Dearborn High School, Willoughby has starred on the basketball court, football field and the baseball diamond.
It is the latter where Willoughby will continue to shine as he recently signed his letter of intent to play baseball at Mount Vernon Nazarene University in Mount Vernon, Ohio – located northeast of Columbus.
Willoughby is coming off a strong senior season. He went 6-1 with a 0.88 ERA, 77 strikeouts, and 13 walks in 48 innings pitched, according to MaxPreps. At the plate, Willoughby hit .365 with a home run, five doubles, 10 RBIs and 16 runs scored.
His impressive season garnered EIAC MVP honors.
Willoughby finished his high school career as a three-time All-EIAC selection, making the team as a freshman, junior and senior. His sophomore season never happened due to COVID-19.
Aside from baseball, Willoughby was an all-conference player in football and basketball.
During his senior year, Willoughby set the school record for single season touchdown receptions with 12. He was also named the Rivertown Classic MVP as South Dearborn won the tournament for the second consecutive year.
In the classroom, Willoughby maintained a GPA of 3.75 or higher and was a member of student government.