The Eastern Indiana Athletic Conference has named its girls track and field all-conference athletes.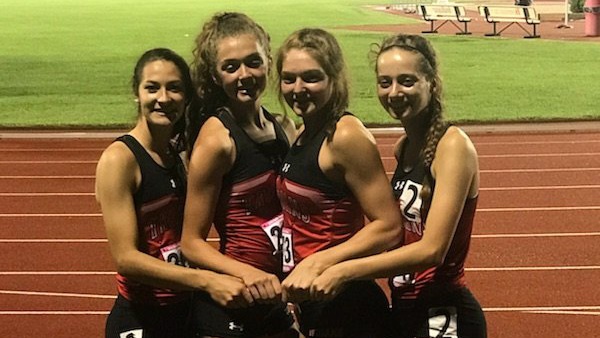 The East Central 4x800 meter relay team placed 11th at the IHSAA Girls Track & Field State Finals held Friday, June 1 in Bloomington, Indiana. Photo by Ashley Andres, @ECentralTrack.
(St. Leon, Ind.) – East Central High School had the best girls track and field team in the Eastern Indiana Athletic Conference this year, but South Dearborn had the conference's MVP.
Knights sophomore Eva Quinlan has been named the EIAC Girls Track & Field MVP.
She won the 300 meter hurdles and high jump titles at the EIAC Girls Track & Field Championship Meet and the IHSAA Sectional Meet at Franklin County in May. Quinlan finished 10th in the 300 meter hurdles at the IHSAA State Finals earlier this month.
Quinlan, who was the lone SD athlete to appear on the all-conference team, will compete internationally in July when she participates in the Down Under Sports Tournament in Australia.
Among their accomplishments, the East Central girls won the team title at the EIAC Championship Meet and the sectional crown. The team was led by great athletes including EIAC All-Conference selections Lauren Greiwe, Abby Bittner, Lily Greiwe, Emma Fey, Audrey Griffin, Eva Grimm, Taylor Messmore, and Brianna Lobenstein.
East Central's Ashley Andrews was named the EIAC's girls track coach of the year.
Franklin County had two All-EIAC selections: Ashlan Hill and Anna Schatzle.
Greensburg was represented by Lily Grimes and Brenner Hanna.
Others on the all-conference squad include Batesville's Haylee Harmeyer and Connersville's Jessica Beckman.
RELATED STORIES:
SEI Athletes Impress At IHSAA Track & Field State Finals
South Dearborn HS Track Star Invited To Compete In Australia