Dates have been set in April and May.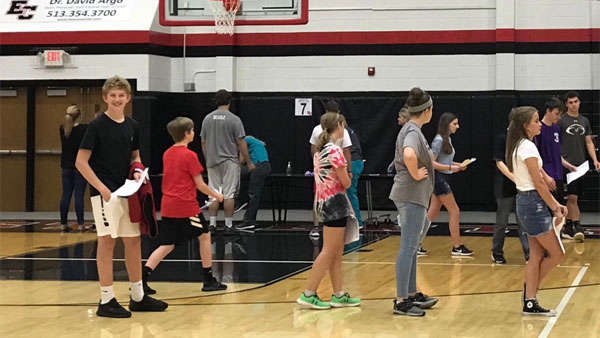 Photo provided.
As the first post-pandemic summer approaches, it will be nice to embrace less structure and fewer responsibilities -- together. However, as you begin to enjoy warmer days and more relaxed schedules with family and friends, if you are the guardian of a student athlete, don't forget one important item that must remain on your "to do" list. That student must have a sports physical to participate.
What does an onsite sports physical include?
After not doing so during these last two school years because of the pandemic, Beacon Orthopaedics & Sports Medicine is once again offering onsite physicals at three local schools. Each student's evaluation includes a ten-point exam including vision, blood pressure, ENT, heart & lung, spine evaluation, upper and lower extremity, height, weight and a final check by one of our board-certified and fellowship-trained physicians.
Why get a physical for a healthy athlete or a student who isn't even an athlete? While a sports physical is required by law in Ohio, Kentucky and Indiana for participation in all organized school sporting activities, it can also be central to the overall health of every student. For athletes, they must be done before conditioning begins. It is also important to remember that if your son or daughter isn't an athlete, a physical is also required for him/her to participate in ANY school-sponsored extracurricular activities. Having the healthiest students is the goal.
Why do the states require pre-participation physicals?
They are simply listening to the experts. Eight different medical boards recommend pre-season physicals with one goal in mind: safety. These screening exams are intended to help reduce the chances of avoidable problems on the field or court, as well as some that might occur elsewhere.
The exams are intended to identify and possibly lead to treatment of injuries or ailments that might hinder or cause damage to the athlete during strenuous exercise. Although medical professionals recognize that screening physicals do not find all potential problems or issues, they do agree that physicals are a very important preventive measure to protect students.
Where/when is Beacon offering onsite (at the schools) physicals in southeastern Indiana? Beacon Orthopaedics and Drayer Physical Therapy staff will be at the following schools on these dates:
Lawrenceburg High School April 20th from 3:00 - 5:30 pm

South Dearborn May 4th from 3:00 – 5:00 pm

East Central May 11th from 3:00 – 6:00 pm
Beacon charges $20 for each physical and will donate that entire amount back to the school each athlete attends. This is a convenient and cost-effective way for students to make sure they are healthy and ready to participate in their favorite sports and activities while helping to support their school's athletic program. There is no prior registration needed. Simply complete the required forms which can be secured from your school's athletic office. If you have questions, please contact Amanda Harper at Aharper@beaconortho.com.
If none of these dates or locations work for your schedule, Beacon can examine your athlete during regular business hours at its Batesville or Lawrenceburg locations for $40. Visit www.beaconortho.com or call 513-354-3700 to schedule an appointment.
And in addition to offering these sports physicals, Beacon Orthopaedics treats patients of all ages for various injuries and ailments. You can always schedule a diagnostic appointment at any Beacon location. So, if you are injured, you can readily go to one of their Saturday morning injury clinics, or urgent care facilities throughout the area.