The Cincinnati Reds replace a prized possession of Harrison High School teacher and coach Shawn Souders.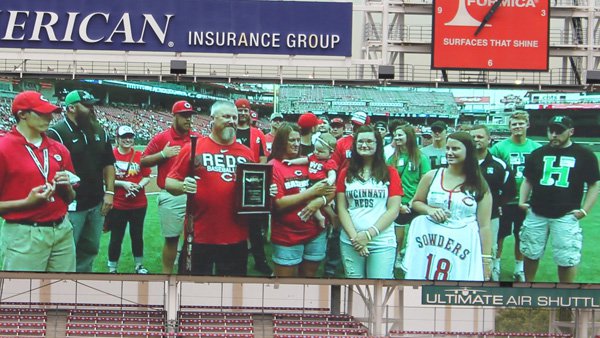 Photo by Ronald Wong.
(Cincinnati, Oh.) – When Harrison High School teacher and baseball coach Shawn Sowders' home went up in flames in June, the fire claimed most of the belongings of his family.
The Cincinnati Reds have helped replace at least one lost possession: Sowders' 2015 MSA Coach of the Year trophy.
The team welcomed Sowders, his family, and Harrison baseball players and alumni onto the field at Great American Ball Park prior to the Reds' game against the Chicago White Sox on Tuesday, July 3. They presented him with a replacement coach of the year trophy.
The Reds also donated a portion of special ticket sales to the Sowders family.
Many in the Harrison community and beyond have come to the Sowders' aid since the June 16 fire which killed two of their pets. A GoFundMe online fundraiser has brought in more than $28,000 for the family.
The Cincinnati Reds and fans honored Mr and Mrs Sowders and family during pregame last night. @HWBCoach @wildcatsofhhs @HarrisonWildcat @hjswildcat #Proud #WTD pic.twitter.com/pKugZY4nz0

— Ronald Wong (@TheTCub1) July 4, 2018
RELATED STORIES:
Harrison HS Baseball Coach, Family Getting Help After House Fire