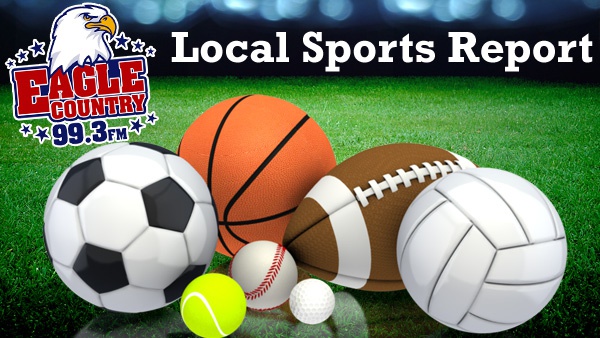 Despite the rain, it was a weekend packed with local high school sports action.
FRIDAY, SEPTEMBER 7
FOOTBALL
South Dearborn 56, Connersville 0 – Eagle Country 99.3 Feature Game – South Dearborn was clearly the better team from the start of the game. The Knights defense completed their third consecutive shutout of an opponent, also giving SD its first three game winning streak since the 2011 season. Running back Dalton Guthrie finished with 217 yards and new school record five touchdowns. Quarterback Adam Dixon was 7 of 10 passing for 146 yards and two scores. Ethan Getz hauled in two passes for 83 yards, both for scores. Austin Terrill had a fumble recovery for a defensive touchdown and an interception. Timmy Dick had a sack and 6 tackles. Interceptions were also made by SD players Owen Lunsford and Will Yauch. Zach Dick kicked a school record eight extra points.
Greensburg 34, Lawrenceburg 33 – The Tigers lost a heartbreaker at the pit. LHS Freshman QB Garrett Yoon was 18 for 28 passing for 344 yards and 2 touchdowns, while running 19 times for 73 yards and 3 TDs. Brother and wideout Gavin Yoon caught 6 passes for 129 yards and a touchdown. Jalen Parks had 8 catches for 124 yards and a score. LHS linebacker Marshall Kinnard had 12 tackles.
East Central 58, Franklin County 7 – East Central QB Alex Maxwell accounted for seven touchdowns in the lopsided win. Maxwell, a senior, was 8 of 12 passing for 103 yards and 2 TDs. He also ran six times for 75 yards and five more scores. Receiver Trevor Becker caught four passes for 70 yards and two touchdowns. Kyle Krummen led the Trojans' defense with seven tackles and two sacks. Devon Donawerth had an interception.
Thank you, Sergeant Garret Geiser for allowing us to partner with you for Indiana National Guard Night! The team was honored to wear the Guard jerseys! Thank you for all that you do for our students. 🇺🇸🇺🇸🇺🇸 pic.twitter.com/5jyIgeVaKP

— East Central HS (@EastCentralHS) September 8, 2018
Batesville 45, Rushville 22
Milan 40, South Decatur 0 - Milan's Parker Lewis starred, running the ball three times for 110 yards and 3 touchdowns. The junior QB was also 3 of 9 passing for 127 yards and a touchdown. Running back Tyler Smith racked up 15 carries for 132 yards and 2 touchdowns. Orrun Schmidt caught two passes for 93 yards and a TD.
Switzerland County 33, Edinburgh 32
Indianapolis Lutheran 47, Oldenburg Academy 22 – Oldenburg QB Eli Sporleder connected on 2 of 3 passes for 137 yards and 2 TDs – one to Matthew Sedler and another to Race Carle. Tailback Dominic Mcfee had 93 yards and a score on six carries. Sedler also led the Twister defense with 10 tackles. Tony Kline made an interception.
BOYS SOCCER
Rising Sun 3, Jac-Cen-Del 1 – Jake Bovard scored twice for the Shiners. Landon Cole made a goal and assisted each of Bovard's scores. Brayden Bush also made an assist. Rising Sun keeper Jordan Parsons recorded five saves. Jacob Jines scored JCD's goal.
SATURDAY, SEPTEMBER 8
BOYS SOCCER
East Central 3, Lawrenceburg 0 – East Central's Colden Whitt made two assists to go with a goal of his own. Brady Spangler and Evan Spangler kicked in goals off Whitt's assists. The EC defense allowed no shots on goal by Lawrenceburg.
CROSS COUNTRY
Brown County Invitational
Submitted by East Central coach Fr. Jonathan Meyer: The EC Trojans were ready for a fast race in Brown County, which is known as one of the fastest and most competitive courses in the state. However, little did they know that they were in store for one of the muddiest races in the history of Cross Country. The rain came and just kept coming for hours prior to the race, during the races and throughout the day. In a total of nine races that competed on the course that day, a total of 1,557 youth ran on the course turning it into a total mess.
Needless to say the times on the course were not fast as the runners trenched through 4 to 5 inches of mud on the majority of the course and up to six inches of standing-water in others. The excitement of the day was alive. The start of the boy's varsity race sounded like something from the movie Braveheart, as the 300 young men prior to the gun going off, taken by the craziness of the course that laid before them, started screaming and yelling in anticipation of the insanity ahead- it was amazing.
The Trojan girls placed 5th out of 19 teams and the boys placed 6th out of 24. The Boys team actually tied for 5th, but the 6th runner placement brought them 6th overall. The EC Boy's reserve team placed 14th out of 19 teams; the EC girls did not have a complete reserve team. Both the boys and girls had individual ribbon winners: Emma Fey (12), Emilee Wedding(14), Kyle Gutfreund (19) and Garett Ardis(23).
The team points were as follows:
GIRLS: Jasper-1, Franklin Community-2, Jennings County-3, Northview-4, East Central-5, Corydon-6, Silver Creek-7, Lebaono-8, Perry Meridian-9, Sacred Heart-10, Bedford NL-11, Owen Valley-12, Madison-13, Martinsville-14, Lawrence Centtral-15, South Dearborn-16, Scotsburg-17, Jeffersnville-18, Evansville North-19
BOYS: Warren- 1, Silver Creek-2, Jasper-3, TH South-4, New Albany-5, East Central-6, Lawrence Central- 7, Bedford NL- 8, Perry Meridian-9, Greensburg-10, Evansville N- 11, Martinsville- 12, Edgwood-13, Seymour-14, Corydon-15, North Harrison-16, Owen Valley-17, Evansville Central-18, Evansville Harrison-19, Scottsburg-20, Jeffersonville-21, Lebanon-22, Madison-23, South Dearborn-24
At the end of the day there were many smiles, great memories created, a lot of shoes and clothes that needed to be washed and cars that needed to be pulled out of the mud…all in all, a fantastic day of racing.
GIRLS SOCCER
Center Grove 3, Lawrenceburg 0
North Central 5, Lawrenceburg 1
Oldenburg Academy 2, New Castle 1
VOLLEYBALL
Ripley County Tournament
Ripley County volleyball champions! BHS defeats Milan in three. pic.twitter.com/WjYIoTXAYo

— Batesville H.S. (@BulldogsBville) September 8, 2018
Championship – Batesville 3, Milan 0 – 25-16, 25-23, 25-11 – Batesville largely cruised to the tournament title thanks to 16 kills, 2 blocks, and 3 digs from Hattie Westerfeld. Macy Prickel had 13 kills, 4 aces, and 9 digs. Kylie Lake made 20 assists, 4 digs, 3 aces, 4 kills, and a block.
First Round – Batesville 3, Jac-Cen-Del 0 – 25-7, 25-10, 25-8 – BHS' Macy Prickel put up 12 kills, a dig and an assist. Kylie Laker contributed 15 assists, 3 digs, 6 aces, a block, and 2 kills. Abigail Westerfeld had 10 aces, 5 kills, 2 digs, and 12 assists.
First Round – Milan 3, South Ripley 2
Greensburg 3, Franklin County 0 – 25-9, 25-23, 25-22 – Franklin County's Meredith Bohman had 8 kills, 1 ace and 11 blocks. Rachel Bischoff had 5 kills, 2 digs,1 ace and 3 blocks. Makyah Richardson had 2 kills, 1 assist, 1 dig and 3 blocks. Megan Getz had 11 assists and 2 digs.
Oldenburg Academy 3, Waldron 1 – 25-15, 24-26, 25-23, 25-13 – OA senior Sydney Bauman had 15 kills, 4 aces, 5 assists and 19 digs. Lydia Gigrich dove for 24 digs, 2 blocks, 2 aces, and 5 kills.
Connersville Invitational Tournament
Seymour 2, Rising Sun 0 – 25-9, 25-20
Connersville 2, Rising Sun 0 – 25-16, 25-17