Lawrenceburg and East Central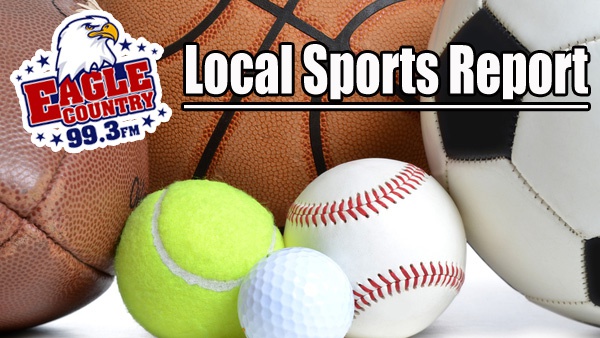 Report local sports scores and stats by emailing news@eaglecountryonline.com.
FRIDAY, SEPTEMBER 4
FOOTBALL
Lawrenceburg 48, Milan 14 (Eagle Country 99.3 Feature Game) - The Tigers offense broke the game open early, scoring 41 points in the first half. Garrett Yoon had his best game of the season going 15-19 for 214 yards and four touchdown passes. Yoon added 98 yards and three touchdowns on the ground to earn Star of the Game, presented by Gary Trabel at Hirlinger Chevrolet in West Harrison. Dayha Patel was Yoon's top target, hauling in five catches for 141 yards and three touchdowns. Adam Burd had a solid performance with 153 rushing yards. Milan's offense struggled through most of the game. Their highlight play came on a 68-yard touchdown pass from Peyton Wert to Adam Norman.
East Central 21, Moeller (Oh.) 6 - The Trojans led the game from beginning to end. Moeller had a PAT blocked in the 4th quarter that would have tied the game at 7-7. East Central would tack on two 4th quarter touchdowns to seal the win. The Trojans had 312 yards of offense with 261 coming on the ground.
Batesville 34, South Dearborn 7 - South Dearborn had 309 yards of total offense but only managed seven points. Batesville jumped out to an early lead and never looked back, scoring 34 unanswered points. South Dearborn got their lone touchdown in the 4th quarter on a 68-yard TD pass from Logan Thies to Hunter Hatfield.
Switzerland County 19, Rock Creek Academy 12 - The Pacers improves to 2-0 on the season.
Oldenburg Academy 46, Edinburgh 40 - Oldenburg Academy is now 2-0.
Franklin County 67, Rushville 18
Greensburg 28, Connersville 21
Talawanda 17, Harrison 7
Deer Park 45, Taylor 35
SATURDAY, SEPTEMBER 5
BOYS SOCCER
Rising Sun 2, Switzerland County 0 - Kendall Montgomery and Dylin Martin scored for the Shiners.
Connersville 7, South Dearborn 2
Lawrenceburg 8, Rushville 1
Oldenburg Academy 2, Greensburg 1
Jac-Cen-Del 2, Indy Lutheran 0
GIRLS SOCCER
South Dearborn 0, Seymour 0
Seton 4, East Central
CROSS COUNTRY
East Central Invite~ Trojans take 2nd and 3rd with personal records all over the place! (Info submitted by Jonathan Meyer)
The East Central Invite hosts 15 teams in St. Leon Indiana. The meet is divided into large and small school divisions. In the Large School Division, the East Central Lady Trojans (71) placed third overall behind Batesville (28) and Taylor (55), with Haggerstown (118) and Franklin County (118) tying and the 6th runner determining the placement; Haggerstown over Franklin County.
In the Girl's race 6 out of the 7 Trojans runners ran their season and all-time best time! Jada Hicks and Jocelyn Inderhees dropped 1:36 from their fastest times this season, Kendal Pflum 1:04, Faith Henderson 54 seconds, and Hannah Doan 40 seconds. Hannah dropped 1:50 off her time from a year ago! Rachel Campbel dropped 17 seconds off her personal best and also moved up to the 8th fastest 5K time in East Central History She took second place today clocking a 20:16. On the top ten list she follows Kristal Studer- 18:35, Abby Bittner 19:01, Lauren Greiwe 19:12, Lindsey Bauman 19:43, Emilee Wedding 20:00, Julia Thomas 20:08 and Krystal Barnhorst 20:09. With it being early in the season, we will see her striding up this list.
In the boys race the team placement was remarkable. The Trojans placed 2nd overall in the Large School Division behind Batesville. The Team scores were as follows: Batesville (21), East Central (71), Haggerstown (81), Connersville (91), Franklin County (115) and Taylor (134). This is the first time this year that the Trojans beat Connersville (however they were missing Adam Arndt, their #1 runner at today's meet). Michale Schwebach placed in the top 10 taking 7th, running a time of 18:03. Griffin Werner placed 11th with a 18:37, and also placing in the top 15 was Parker Fleming in 12th!
Trojans Running their season best times were: JJ Stenger (51 second time drop), Owen Hagen (28 second time drop), John Hotel (25 Seconds), David Massingale (17 seconds) Nico DiMeglio (14 seconds), Brody Sandlin (7 seconds).
In the Reserve Race the following trojans had placements: David Massingale 10, Ethan Campbell 7, Brody Sandlin 6, Logan Hocks 4, Reily Small 3.
The Trojans have 6 days of training until their next meet, the Eagle Classic in Brown County next Saturday.