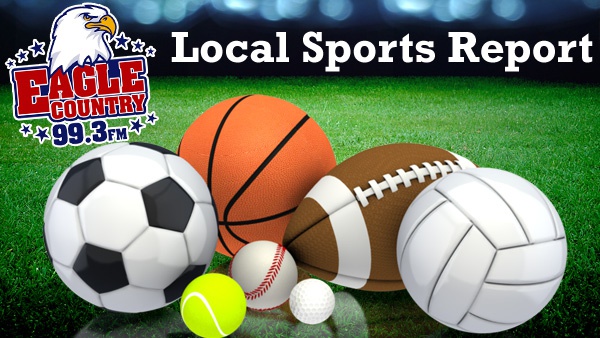 Batesville's boys and girls cross country teams won the EIAC Championship Meet on Saturday.
Please report missing scores to 888-537-9724 or email sports -at- eaglecountryonline.com.
FRIDAY, SEPTEMBER 21
FOOTBALL
East Central 42, South Dearborn – Eagle Country 99.3 Feature Game – South Dearborn's four-game winning streak ended to their in-county rival. EC's Alex Maxwell was 7-of-12 passing for 82 yards with a score and a pick. He also had 176 rush yards and 3 touchdowns on the ground. Eric Rosemeyer went wild for 240 rush yards and found the end zone twice. Jake Fike had 35 yards rushing and 35 yards receiving with a TD. Gaar Ertel recorded 2 sacks and 3 tackels for the Trojans defense. South Dearborn QB Adam Dixon was 7-of-12 for 82 yards with a touchdown and an interception. He also added a rushing touchdown. Trey Thies caught two passes for 63 yards and a score. East Central had 26 first downs to South Dearborn's 7.
Batesville 33, Lawrenceburg 30 overtime – Batesville's Nate Slavin kicked the game-winning field goal from 36 yards in overtime, his second field goal of the night. Bulldog QB Trey Hedlage ran for 206 yards and 3 touchdowns. He also went 4-of-17 passing for 147 yards with a pick. Lawrenceburg freshman quarterback Garrett Yoon was 18-of-32 for 210 yards with 3 TDs and 2 interceptions. Adam Burd ran for 121 yards and a touchdown. Jalen Parks caught 5 passes from Yoon for 106 yards and a score.
Franklin County 38, Greensburg 35
Milan 42, Edinburgh 8 – The blowout win for Milan was highlighted by QB Parker Lewis with 87 passing yards for 2 touchdowns and 1 interception, while also running for 40 yards and a score. Tyler Smith carried 16 times for 163 yards and two TDs. Joel Norman and Peyton Wert each caught a touchdown pass. Orrin Schmidt and Zac Hauser each made an interception for the Milan defense.
Switzerland County 46, Rock Creek Academy 32
Oldenburg Academy 22, Indianapolis Lighthouse East 15 – Oldenburg running back Dominic McFee posted 13 carried for 108 yards and a TD. Caleb Lehman had 15 rushes for 90 yards. Quarterback Eli Sporleder had 85 passing yards and a touchdown to Matthew Sedler. Sedler also led the defense with 9 tackles while Lehman had an interception.
BOYS SOCCER
Rising Sun 6, Shawe Memorial 1 – The Shiners dominated thanks to three goals by Landon Cole. Jake Bovard had two goals and two assists. James Bounds added the Shiners' sixth goal. Jordan Parsons made a save as Rising Sun's keeper.
SATURDAY, SEPTEMBER 22
BOYS SOCCER
Ryle (Ky.) 1, East Central 0
Lawrenceburg 3, Greensburg 0
Jac-Cen-Del 2, South Dearborn 0
Trinity Lutheran Cougar Cup
Southwestern 4, Franklin County 1
Jac-Cen-Del 2, Rising Sun 0 – JCD goals were netted by Trent Linville and Jacob Jines. Ryan Wilson had an assist. JCD goalkeeper Adrian Peetz made 5 saves. So did Rising Sun keeper Jordan Parsons.
South Ripley 3, Milan 2 – Jacob Elliot scored two for victorious South Ripley. Zach Gentile also had a goal. Alvaro Sais made an assist. In the net, Cory Ralston was great with 8 saves.
Fort Wayne Canterbury 1, Oldenburg Academy 1 – #11 Canterbury came in and upset #1 Oldenburg at The Plex in Batesville. Justin Baeten kicked the game's only goal with about 4 minutes left in the first half.
CROSS COUNTRY
EIAC Championship Meet
Boys and Girls EIAC XC Champions! Great job Coach Gausman! Great job XC Bulldogs!#BvilleBulldogs pic.twitter.com/8wlCwpck5D

— Paul Ketcham (@KetchamPaul) September 22, 2018
The Batesville boys and girls each claimed the 2018 EIAC Cross Country Team Champion titles on their home course Saturday. Batesville boys took four of the top six places, led by individual champion Ean Loichinger, a freshman, with a time of 16:25. Rushville's Andrew Miller was second at 16:29 and Batesville's Adam Moster was third at 16:40. Rushville was second in the team standings, followed by Greensburg in third.
For the girls, Greensburg's Brenner Hanna posted a time of 18:35 to win the individual conference championship. Batesville had the second and third place finishers: Elizabeth Loichinger at 19:27 and Lily Pinckley at 19:36. Girls team standings were Batesville first, Greensburg second, then East Central in third.
Find full meet results at http://www.stuartroadracing.com/crosscountry.html.
Duke Meyer Classic Cross Country Invitational
Switzerland County's Leah Anders placed second in the girls race at the Duke Meyer Classic in Hanover on Saturday. She completed the course in 20:47, about a minute behind the race winner, Emma Morrison of Jennings County. As a team, Switzerland County finished third in the girls team standings.
In the boys race, Oldenburg Academy placed 7th as a team led by Tyler Kuntz, who was 15th at 17:46.
Full race results are available at http://www.stuartroadracing.com/crosscountry.html.
GIRLS GOLF
IHSAA Sectional at Edgewood Golf Club
Franklin County's girls golf season came to an end on Lapel High School's home course Saturday. The FC girls finished 11th out of 18 in the team standings. The Wildcats were led by Maggie Brack and Camryn Brewer, who each carded a round of 89. Batesville's Meredeth McCreary was competing at the regional as an individual and posted a score of 81, which was not good enough to meet the 79-shot cutoff to advance to the state finals.
GIRLS SOCCER
Center Grove Invitational
Center Grove 2, East Central 0 – EC keeper Jessica Shipman made six saves.
East Central 6, Oldenburg Academy 0 – Six difference EC players scored: Eva Grimm, Ema Hinton, Mackenzie Hogg, Rachel Hill, Mackenzie Vignale, and Sophie Browndyke. Taylor Whitehead had two assists. Goalie Mary Brewington had two saves.
St. Henry (Ky.) 1, South Dearborn 0
Columbus East 2, Oldenburg Academy 0
Franklin County 5, Milan 1 – FC's Hannah Sturber had a hat trick with 3 goals. Jordan Nichols and Jessica Parker kicked two more goals for the Wildcats.
Battle of the River at Switzerland County
Your 2018 Battle of the River Champions! pic.twitter.com/Z5729azbi9

— Switzerland County Pacer Athletics (@GoSwitzCoPacers) September 22, 2018
Switzerland Co. defeated both Gallatin Co. and Carroll Co. for the championship. Carroll Co. defeated Gallatin Co.
VOLLEYBALL
Lawrenceburg 2, Jac-Cen-Del 0 – 25-8, 25-5
Rising Sun 2, Jac-Cen-Del 0 – 25-15, 25-9
Connersville 3, South Dearborn 0 – 25-18, 25-9, 25-12
Cougar Challenge at Greenfield-Central
Greenfield-Central 2, Batesville 0 – 25-19, 25-17
Homestead 2, Batesville 0 – 25-20, 25-19
Batesville 2, Lighthouse Christian Academy 0 – 25-6, 25-3
Batesville 2, Daleville 0 – 25-22, 25-16
Morristown 3, Jac-Cen-Del 0 – 25-15, 25-16, 25-19
Madison 3, Jac-Cen-Del 0 – 25-9, 25-12, 25-15
Oldenburg Academy Tournament
Roger Bacon (Oh.) 3, Oldenburg Academy 0 – 25-6, 25-7, 25-15