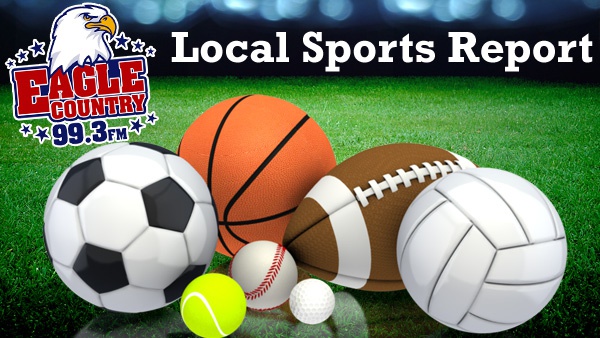 South Ripley's Mady Tompkins got it done in the circle and at the plate.
Please report missing scores and statistics to 888-537-9724 or email sports -at- eaglecountryonline.com.
BASEBALL
Franklin County 6, Lawrenceburg 4 – Four Tigers had an RBI: Mason Kennedy, Ethan Weimer, Will Halbig, and Logan Tingle.
East Central 3, Greensburg 2 – EC's Zach Monhollen pitched 5.0 innings with 6 Ks and 1 earned run allowed, but Zach Henson go the win with two shutout innings. Reid Cleary had an RBI for EC.
Connersville 15, South Dearborn 5
Batesville 8, Rushville 2 – Batesville's Lane Oesterling pitched great with 11 strikeouts and just 3 hits given up over 6.0 innings.
Milan 13, Switzerland County 4
South Ripley 3, Jac-Cen-Del 0 – Bryce Franklin had a great game for South Ripley, pitching a no-hitter and hitting a 2-run home run.
Oldenburg Academy 5, Centerville 0
SOFTBALL
Franklin County 9, Lawrenceburg 4 – FC was led offensively by Morgan Bare with 2 singles for 2 RBI and a run scored. Camryn Brewer went 4-for-4 with 3 singles, a double, and 3 runs. Camryn Brewer pitched 5.0 innings with 8 hits and 3 strikeouts, but did not get the decision. That went to Michaela Ferman whole pitched 2 scoreless innings with 2 Ks and 2 hits.
East Central 8, Connersville 3 – East Central slugger Carson Bennett went 4-for-5 with a double, 3 RBI and a run scored. Emma Ertel added a hit and 2 RBI. Lindsay Henson pitched a complete game with 7 Ks, 2 hits, 2 walks and 2 earned runs in 7.0 innings.
Rising Sun 14, Oldenburg Academy 0 – Rising Sun racked up 15 hits in the win. Sydney Pitts went 2-for-4 with a home run and 4 RBI. Lindsay Montgomery was 2-for-4 with a double and 3 RBI. Cora Poling hit a home run for 2 RBI. Pitts also earned the pitching win with 1 hit surrendered while striking out 8 hitters over 5.0 innings.
Switzerland County 11, Milan 3 – Maggie Schmidt and Taryn Cline each posted an RBI for Milan.
South Ripley 4, Jac-Cen-Del 2 – South Ripley's Mady Tompkins did it all. She pitched 7 innings with 6 strikeouts, 2 earned runs, and a walk allowed. She also went 2-for-4 at the plate. Teammate Ellie Waldron was 2-for-4 while Kaylee Werner was 1-for-3 with a run and an RBI. Shaylee Volz hit a home run for JCD.
BOYS GOLF
East Central defeated Franklin County on Monday, 195-207. EC's Nate Heinrich made a hole-in-one on hole 12.
GIRLS TENNIS
East Central 5, Rushville 0
Shawe Memorial 4, Milan 1