Batesville and Switzerland County baseball teams, as well as Franklin County's softball team, celebrated Memorial Day weekend with sectional championships. Find local varsity sports scores with one click, presented by Beacon Orthopaedics & Sports Medicine.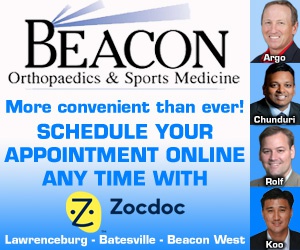 Please report missing scores to 888-537-9724 or email sports -at- eaglecountryonline.com.
FRIDAY, MAY 25
BASEBALL
IHSAA 4A Sectional 14 at Shelbyville – Semi-Finals
Columbus East 9, East Central 2 – East Central's season ends with a 10-13 record.
IHSAA 3A Sectional 29 at Madison – Semi-Finals
Franklin County 6, Lawrenceburg 5 – The Wildcats survived Lawrenceburg thanks in part to 2 RBIs each from Tommy Raatz and Alex Bischoff. FC (15-5) advances to meet Batesville in the sectional championship game. Lawrenceburg's season ends with a 21-9 record.
Batesville 7, Greensburg 4 – Drew Keifer, Quinn Werner, and Sam Voegele each had an RBI for Batesville. Pitcher Joe Bohman went 6.0 innings with 4 Ks, 7 hits, no walks, and four earned runs allowed, while Sam Voegele earned the save. Batesville (17-10) advances to meet Franklin County in the sectional championship game.
SOFTBALL
IHSAA 3A Sectional 29 at Franklin County – Championship
Franklin County 3, South Dearborn 0 – Franklin County (25-5) wins the sectional title after Kamryn McCool pitched a complete game with 17 strikeouts and just three hits allowed. McCool was able to pass Brooke Otto's school record for most hits in a single season, which was previously set at 43. McCool also tied Otto's career hits mark of 166 in the game. Reagan Willoughby had two hits for South Dearborn. In the regional round, they will play against Corydon Central (23-4) on Tuesday, May 29. South Dearborn's season ends with an 18-9 record.
Franklin County is your Sectional 29 Champions! Wildcats defeat the South Dearborn Knights 3-0! pic.twitter.com/1CHrFZ5k3X

— FC Softball (@FCHS_Fastpitch) May 26, 2018
SATURDAY, MAY 26
GIRLS TENNIS
IHSAA Semi-State at Center Grove
Brownsburg ended Oldenburg Academy's postseason run in a 5-0 meet. Oldenburg's great season ends with a 19-3 record.
MONDAY, MAY 28
BASEBALL
IHSAA 3A Sectional 29 at Madison – Championship
Batesville 3, Franklin County 2 – Batesville scored the winning run in the 8th to capture the sectional title. Trey Heidlage went 3-for-5 with the game winning RBI and a run scored. Calvin Sherwood added a hit and 2 RBI. Lane Oesterling and Sam Voegele combined for 8 strikeouts, with Voegele getting the win in the final two innings. Batesville will play Silver Creek in the first round of regionals at Evansville Bosse High School on Saturday, June 2.
SECTIONAL CHAMPIONS!!! pic.twitter.com/17NbI3bPs3

— Batesville Baseball (@BatesvilleBB) May 28, 2018
Heidlage with the game-winning RBI in the bottom of the 8th! Batesville wins the @IHSAA1 Class 3A Sectional 29 Championship over Franklin County, 3-2! pic.twitter.com/o7gI9eoXKk

— Rob Connett (@RobConnett1) May 28, 2018
IHSAA 2A Sectional 45 at Switzerland County
Switzerland County 6, South Ripley 3 – Switz had a five-run 5th inning to pull off a shocker and win the sectional crown. Switzerland County (12-10) plays against Southridge in the IHSAA regional on Saturday, June 2. South Ripley's stellar season ends with a 20-4 record.
2018 SECTIONAL CHAMPS!! It's a good day to be a pacer! ⚾️

photo credits : @CampbellSports pic.twitter.com/GagPCi57Th

— SCHS PEP CLUB (@switzcopepclub) May 28, 2018
IHSAA 1A Sectional 60 at Jac-Cen-Del
Semi-Final – Hauser 7, North Decatur 2
Semi-Final – Jac-Cen-Del 9, South Decatur 3
Championship – Hauser 11, Jac-Cen-Del 5 – Jac-Cen-Del's season ends with a 6-16 record.