Lawrenceburg senior Mason Parris is going to the IHSAA Track & Field State Finals in two events. He'll be joined at the state finals by teammate Eyan Peelman. Find local varsity sports scores with one click, presented by Beacon Orthopaedics & Sports Medicine.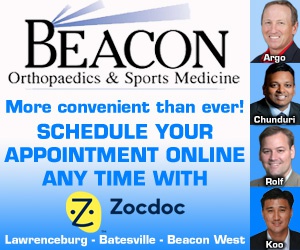 Please report missing scores to 888-537-9724 or email sports -at- eaglecountryonline.com.
BASEBALL
IHSAA 3A Sectional 29 at Madison – First Round
Greensburg 2, Rushville 1
Batesville 10, Madison 2 – Lane Oesterling and Caleb Raab teamed up on the mound to limit Madison to just 1 hit and 2 unearned runs, which striking out a combined 7 batters. Calvin Sherwood provided the offense, going 3-for-5 with 3 RBI and a run scored. Batesville (16-10) advances to play Greensburg (13-6) in the sectional semi-finals on Friday, May 25.
IHSAA 2A Sectional 45 at Switzerland County – First Round
South Ripley 10, Southwestern 0 – South Ripley freshman Bryce Franklin finished with 5 RBI on a home run, double and a single. South Ripley (20-3) advances to play Switzerland County (11-10) in the sectional championship game on Monday, May 28.
Switzerland County 6, Austin 5 – Switz made a huge comeback. After trailing 5-1 after 5 innings, they climbed back with 5 runs in bottom of 6th to win it.
BOYS GOLF
East Central out-shot Batesville at Grand Oak Golf Club on Thursday, 178-181. Batesville's Ross Harmeyer was the medalist of the meet with a round of 38, 2 over par.
Southwestern defeated Jac-Cen-Del 190-228.
GIRLS TENNIS
IHSAA Regional at Richmond
Oldenburg Academy 4, Richmond 1 – Oldenburg secured the regional championship. The Twisters (19-2) will play against Brownsburg (16-3) in the semi-states on Saturday, May 26 at Center Grove.
SOFTBALL
IHSAA 1A Sectional 60 at Rising Sun – Championship
Hauser 5, Jac-Cen-Del 0 – Hauser pitcher Tessa Sims limited JCD to just 2 hits. Jac-Cen-Del's great season ends with an 18-6 record.
TRACK & FIELD
Lawrenceburg senior Mason Parris is going to the IHSAA Track & Field State Finals in two events. At Thursday's IHSAA Track & Field Regional at Franklin, Parris was second in the shot put at 53' 10.5". He was also third in the 110 meter hurdles with a time of 15.10.
Parris will be joined at state by teammate Eyan Peelman, who was crowned the regional champion in the discus throw. He flew it 153' 7".
One other area athlete secured a state finals slot by placing third or better in an event. Franklin County's Cody Moore was third in the 800 meter run at 1:58.40, a new school record.
Find full results from the IHSAA Track & Field Regional at Franklin at http://www.ihsaa.org/Portals/0/boys%20sports/track/2017-18/201718FranklinRegional.pdf.