Milan advanced in their opening game of the IHSAA Softball State Tournament on Monday. Find local varsity sports scores with one click, presented by Beacon Orthopaedics & Sports Medicine.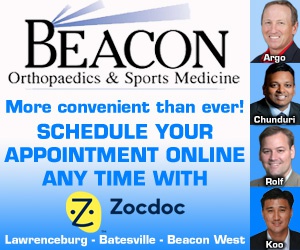 Please report missing scores to 888-537-9724 or email sports -at- eaglecountryonline.com.
SOFTBALL
IHSAA 3A Sectional 29 at Franklin County – First Round
Suspended by rain in 5th inning – Franklin County 0, Greensburg 0 – The game will resume Tuesday evening at 5:30 p.m.
IHSAA 2A Sectional 45 at Milan – First Round
Milan 12, Austin 0 – Lexi Wert did the job on the mound for Milan. She struck out 9 Austin batters in 5.0 innings, while giving up just two hits and no walks. Offensively, Taylor Amberger and Courtney Bruns each had 3 RBI. Milan advances to play South Ripley in the sectional semi-finals on Tuesday, May 22.
IHSAA 1A Sectional 60 at Rising Sun – First Round
North Decatur 5, Rising Sun 0 – Rising Sun's season came to an end much sooner than they would have liked. The Shiners could only muster three hits in the season-ending loss. Rising Sun's great season ends with a 16-6 record.
Suspended by rain in 2nd inning – Hauser 6, Oldenburg 0 – The game will resume Tuesday evening at 5:30 p.m. Second round games have been rescheduled until Wednesday.