The IHSAA Boys Golf Sectional tournament in Madison did not turn out well for local teams Monday. Find local varsity sports scores with one click, presented by Beacon Orthopaedics & Sports Medicine.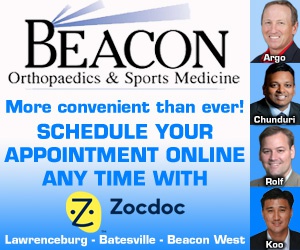 Please report missing scores to 888-537-9724 or email sports -at- eaglecountryonline.com.
BOYS GOLF
The golf season came to an end for local teams at Monday's IHSAA Boys Golf Sectional hosted at Sunrise Golf Course in Madison. Only the top three teams and the top three individuals without the benefit of their team place are afforded advancement to the IHSAA Regionals to be held June 7 and 8.
Madison won the sectional team title with a team score of 308. Southwestern was second with 330 and Jennings County was third with 339.
Rising Sun placed sixth with a 397 combined score. Sam Markland led the Shiners with an 18-hole round of 93.
Switzerland County placed seventh with 404, highlighted by an 89 from Kyle Whitham.
South Ripley placed ninth of 12 teams with a 453 team score. Cory Welch was the Raiders' best with 100.