Girls basketball sectional champions were crowned, and area wrestlers and swimmers advanced in their respective state tournaments.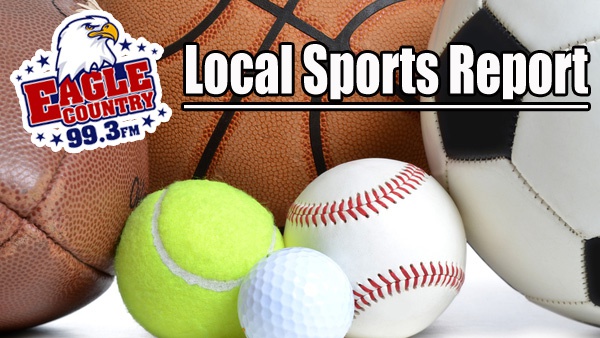 Report missing high school sports scores and stats to news@eaglecountryonline.com.
FRIDAY, FEBRUARY 5
GIRLS BASKETBALL
Class 4A Sectional 14 at East Central - Semifinals
East Central 68, Martinsville 62 (2OT) - Eagle Country 99.3 Feature Game - The Trojans fell behind early and trailed 26-18 at halftime, but they outscored Martinsville 14-6 in the third quarter to even the game. Kyla Maxwell's last second layup swung the momentum in the Trojans favor. Both teams went back-and-forth in the fourth quarter. With less than 10 seconds left in regulation, Josie Trabel stole the ball near midcourt and took it all the way for the go-ahead score. With 4.9 seconds left, Martinsville senior Pa'Shence Walker dribbled the length of the floor and was fouled. She calmly nailed both free throws to send the game to overtime. The Artesians would gain control in the first overtime, but the Trojans battled back with Laney Baker making a last second layup to put the game into double overtime. East Central outscored Martinsville 10-4 in the second overtime to get the dramatic win. Hope Fox led all scorers with 25 points. Josie Trabel added 21 and Kyla Maxwell chipped in with 7.
Columbus North 52, Bloomington North 26
Class 3A Sectional 29 at Rushville - Semifinals
Lawrenceburg 44, Batesville 33 - The Tigers outscored Batesville 17-5 in the 2nd quarter and 4-0 in the 3rd to take control of the game. Katie Johnson led all scorers with 17 points.
Rushville 66, Greensburg 52
Class 2A Sectional 45 at South Ripley - Semifinals
Switzerland County 40, Southwestern (Hanover) 35
South Ripley 64, South Decatur 29
Class 1A Sectional 60 at Waldron - Semifinals
Jac-Cen-Del 59, Morristown 44
Southwestern (Shelbyville) 68, Rising Sun 35
SATURDAY, FEBRUARY 6
GIRLS BASKETBALL
Class 4A Sectional 14 at East Central - Championship
East Central 38, Columbus North 29 - Eagle Country 99.3 Feature Game - East Central led by one point at halftime, then trailed by two going into the fourth quarter before seizing control of the game. Josie Trabel came up big, knocking down seven free throws in crunch time. Julia Tiemann had seven points, and Hope Fox and Laney Baker added six each to power the Trojans to their second-consecutive sectional championship. The Trojans will play Bedford North Lawrence in the first round of regional play on Saturday, February 13. The game will be played at Bedford North Lawrence at 10 AM.
SECTIONAL CHAMPIONS!!! pic.twitter.com/LQGHHPFMmP

— East Central HS (@EastCentralHS) February 7, 2021
Class 3A Sectional 29 at Rushville - Championship
Rushville 47, Lawrenceburg 26 - The Tigers struggled from the floor, shooting 10-31. Lizzie Redar led the Tigers with 14 points. Kierah Lowe added six for Lawrenceburg. The Tigers finish the season 13-9.
Class 2A Sectional 45 at South Ripley - Championship
South Ripley 42, Switzerland County 26 - Rachel Meyer had 14 points. Janire San Miguel added 10 points for the Raiders. Switzerland County's season comes to an end with an 18-6 record. South Ripley will play Eastern at the Crawford County Regional on Saturday at 10 AM.
Class 1A Sectional 60 at Waldron - Championship
Southwestern (Shelbyville) 52, Jac-Cen-Del 48 - Annabelle Williams and Anna Hubbard had 11 points each for the Eagles. Southwestern did a great job defensively on Paige Ledford, holding the Eagles start to only four points. JCD's streak of sectional championship wins ends at 12.
BOYS BASKETBALL
Columbus North 51, East Central 41
Greensburg 73, Jac-Cen-Del 45
Lawrenceburg 39, Milan 34
Madison 64, Batesville 61 - OT
Oldenburg Academy 46, Triton Central 45
South Ripley 68, Franklin 50
Rising Sun 48, Switzerland County 44
Shiners are Rulers of the River! Final score 48-44 @orvcsports @GoSwitzCoPacers pic.twitter.com/humDHfoNd7

— Rising Sun Shiners (@rsshiners) February 6, 2021
WRESTLING
IHSAA Regional at Richmond
Team Scores:
East Central 218
Centerville 93.5
South Dearborn 67.5
REGIONAL CHAMPIONS! pic.twitter.com/npxho7mjgX

— East Central HS (@EastCentralHS) February 7, 2021
Individual winners include:
126 - Blake Wolf - East Central
138 - Corbin Walston - Lawrenceburg
145 - Eli Otto - South Dearborn
152 - Ben Wolf - East Central
160 - David Nash - East Central
170 - Bryer Hall - East Central
195 - Ryan Bovard - East Central
220 - Kole Viel - East Central
Local wrestlers advancing to semi-state: Caleb Prozanski (Milan), Javier Payne (LB), Evan Seal (FC), Adam Crouch (FC), Carson Whitehead (EC), Dylan Lengerich (EC), Isaiah Otto (SD), Ashton Myers (Milan), Rider Searcy (EC), Charlie Euson (EC), Josh Mobley (Batesville), Kenneth McGill (SD), Jacob Weigel (Batesville), Same Ringer (EC), Noah Rowlett (LB), Chase Emmert (SD), Alex Kemper (SD), and Austin Cox (EC).
GIRLS SWIMMING
IHSAA Sectional at Columbus North
Team Scores:
Bloomington South 458.5
Bloomington North 357
Columbus North 307
Columbus East 230
East Central 203
Greensburg 193
Milan 129
South Dearborn 95
South Ripley 66
Rising Sun 58
Lawrenceburg 57.5
Batesville 50
Edgewood 38
Oldenburg Academy 1
EC Finalist
Natalie South - 1 Meter Diving
Kyra Hall - 100 Butterfly; 100 Back
Tara Hall - 100 Back
Samantha Mittermeier, Caroline Walters, Tara Hall, Kyra Hall - 400 Freestyle Relay
SD Finalists
Batesville Finalist
Senior Sonja Gaulin — 50 Free (27.83, 13th); 100 Free (1:04.24, 16th)
Senior Paige Oldham — 50 Free (27.95, 14th); 100 Free (1:02.62, 15th)
Junior Maria Lopez — 100 Fly (1:12.25, 13th)
200 Freestyle Relay (1:56.11, 8th) — Gaulin, Lopez, Isabelle Wonnell (Fr), Oldham
400 Freestyle Relay (4:24.79, 10th) — Gaulin, Lopez, Claire Sunderman (Jr), Oldham
Full results at www.ihsaa.org.