To report local sports scores, call 812-537-0944 or email news@eaglecountryonline.com.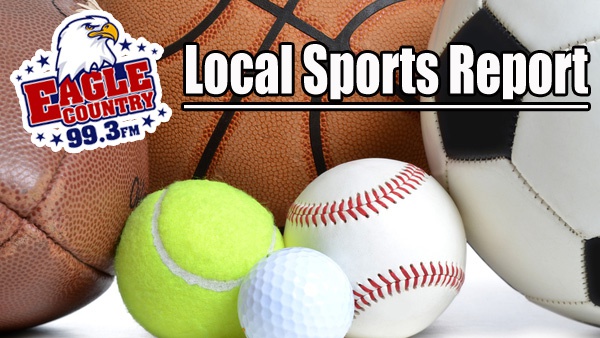 To report local sports scores, call 812-537-0944 or email news@eaglecountryonline.com.
FRIDAY, AUGUST 28
FOOTBALL
Lawrenceburg 14, Mount Healthy (Oh.) 7 (Eagle Country 99.3 Feature Game) - Offense was hard to come by but the Tigers made big plays when it counted the most. Mount Healthy opened up the scoring in the second-quarter when QB Na'Davion Gaither scampered in the end zone from 8-yards out. The Tigers would answer just before halftime on a 10-play, 56-yard drive that was capped off by an Adam Burd touchdown. The PAT was missed and Lawrenceburg went into halftime down 7-6. The Tigers would score the lone second half touchdown on a 12-play, 99-yard drive on a 6-yard Garrett Yoon TD run. Yoon would connect with Dayha Patel on a fade route for the two-point conversion. Lawrenceburg's defense was solid forcing four turnovers and coming up big in the red zone on multiple occasions. Offensively, the Tigers were led by Adam Burd. The senior ran for 120 yards and a TD.
South Dearborn 32, Madison 26 (OT) - The Knights trailed for three quarters but a C.J. Rogers 39-yard touchdown run and Sean Sohmer two-point conversion in the fourth quarter forced overtime at Madison. Sohmer would score from one-yard out in overtime to give the Knights the comeback win. C.J. Rogers led the way with 67 rushing yards and three touchdowns. Quarterback Logan Thies went 13-30 for 177 yards, a TD and an INT. Isaiah Otto had three catches for 36 yards and a TD. Sean Sohmer led the Knights defensively with 7 tackles. Bryce Valdez and Dalton Hatfield contributed with six tackles each.
Batesville 42, Milan 34 - Batesville outscored Milan 26-7 in the fourth quarter for the comeback victory. Bulldogs QB Travis Lecher had a huge night, going 8-16 for 216 yards with two touchdown passes. Lecher added 151 yards and four TDs on the ground. Austin Pohlman chipped in with 112 yards rushing. Kurt Siefert caught five balls for 119 yards and two touchdowns for the Bulldogs. Ben Schebler led Batesville defensively with 8 tackles.
Indianapolis Chatard 10, East Central 0
Triton Central 20, Greensburg 3
Chaminade-Julienne 21, Harrison 17
Mariemont 30, Taylor 19
SATURDAY, AUGUST 29
BOYS SOCCER
Oldenburg Academy 3, Trinity Lutheran 0
Batesville 5, Herron 0
Shelbyville 2, Batesville 1
South Dearborn 4, Rising Sun 2 - Dana Lewis, Ashton Cotton, Zander Clayton and Nakia Scruggs all scored for the Knights. Landon Cole and Kendall Montgomery each had a goal and assist for the Shiners.
GIRLS SOCCER
Indianapolis Chatard 4, Batesville 0
Tri-West Hendricks 7, Batesville 0
VOLLEYBALL
Rising Sun 3, Morristown 1 (25-20, 25-17, 17-25, 25-22)
East Central 2, Covenant Christian 1 (21-25, 25-20, 18-16)
East Central 2, Seymour 1 (25-22, 11-25, 15-12)
#ECVB defeated Covenant Christian 2-1 to open the day at Bloomington South. We fell to Trinity Lutheran 0-2 in the second match of the day. Short break and then our last match against Seymour coming up!

— EC VOLLEYBALL (@EastCentralVB) August 29, 2020
#ECVB defeated Seymour in the final match of the day 2-1. We finished the day 2-1.

We are at Franklin County on Monday! @ECTrojanSports

— EC VOLLEYBALL (@EastCentralVB) August 29, 2020
Waldron 2, South Ripley 1 (25-21, 26-28, 16-14)
Batesville 3, Connersville 0 (25-9, 25-10, 25-9)
Madison 2, South Dearborn 0 (25-10, 25-18)
Lawrenceburg 2, Franklin County 0 (25-11, 27-25)
Lawrenceburg 2, Waldron 0 (25-22, 25-11)
Lawrenceburg 2, Madison 1 (16-25, 25-20, 15-9)
Tigers beat host Madison 16-25, 25-20, 15-9 to win the Madison Invitational! #overcome #wontheday @ihsvca @IndianaPrepVB pic.twitter.com/z80HssvoWJ

— LHS Volleyball (@LburgVB) August 29, 2020
CROSS COUNTRY
Moores Hill Invitational (Info submitted by Jonathan Meyer)
Ladies Team Scores: Batesville (28), Columbus East (69), East Central (73), Greenfield Central (810, Franklin County (132)
In the girl's race the Lady Trojans ran very well. The race was dominated by Brinkruff from Greenfield Central who placed first in 19:34. Rachel Campbell went out with the lead pack, hung with them and then established her dominance; her time was about 17 seconds faster than her fastest time last year at Regionals. Kendal Pflum, who is a freshman and still trying to figure out how to race a 5k, advanced several places at the 4k and kept passing girls the rest of the way in. Kendal came up on her teammates Faith Henderson and Jessica Bender, all of them finishing with in 13 seconds of each other; the three of them are all freshman; showing hope and promise. The 5th scoring Trojan was none other than Hannah Doan who ran almost 2 minutes faster that her best time from last year; summer running is paying off! The Trojans placed 3rd after Batesville and Columbus East.
Individual Trojans:
3- Rachel Campbell~ 20:33
15~ Kendal Pflum~ 23:14
16~ Faith Henderson ~ 23:17
17~ Jessica Bender~ 23:27
22~ Hannah Doan ~ 24:15
25- Jocelyn Inderhees ~ 25:36
31~ Jadda Hicks~ 27:25
Boys Team Scores: Batesville (43), Austin 47), Greenfield-Central (51), Connersville (104), East Central (108), Franklin County (155), Columbus East (223), South Dearborn (226)
In the boys race the Trojans ran strong. The team ran smart coming up from the back and running good, even splits, in fact all of the trojan men ran their fastest time this season. The race went out fast, with Ean Loichinger, of Batesville, clocking a 16:36. Both Michael Schwebach and Griffin Werner went sub 18mins for the first time and Parker Fleming established himself as the third man today. Reilly Small came in 4th for the team, running an all time best and almost breaking 19mins. The 5th man today was all over the place: Owen Hagen, Logan Hicks and Nico DiMeglio all switched positions in the last 400 meters, there is excitement to see where this will develop. Brody Sandlin, JJ Stenger and John Hotel are all right there as well. There is a great sign of hope in this team's depth.