South Dearborn volleyball earned a win over Switz on Monday. Find local varsity sports scores with one click, presented by Beacon Orthopaedics & Sports Medicine.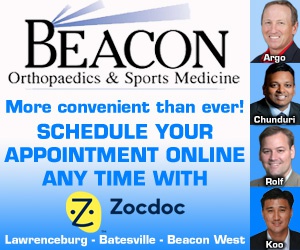 Please report missing scores to 888-537-9724 or email sports -at- eaglecountryonline.com.
BOYS SOCCER
Lawrenceburg 5, Rising Sun 2 – Rising Sun's two goals both came off the foot of Zac Brokaw, with Jake Bovard making one assist.
South Dearborn 4, Shawe Memorial 0
Connersville 3, Franklin County 0
Seton Catholic 5, Milan 0
Southwestern (Hanover) 3, South Ripley 0 – South Ripley's Cory Ralston made 15 saves.
Jac-Cen-Del 4, Switzerland County 0 – Jordan Meyer kicked two goals for JCD. Justin Swinney and Ryan Wilson also found the back of the net.
Oldenburg Academy 3, Southwestern (Shelbyville) 2
GIRLS GOLF
Franklin County lost to Greensburg, 171-180, at Greensburg Country Club on Monday. FC's Maggie Brack was the medalist with a low score of 36, a new personal best for her.
GIRLS SOCCER
East Central 4, Conner (Ky.) 0
Milan 4, Southwestern (Hanover) 1 – Lily Phelps kicked two goals for the Indians. Other Milan goals were netted by Liz Sutherlin and Jordan Combs.
Carroll County (Ky.) 3, Switzerland County 0
VOLLEYBALL
South Dearborn 3, Switzerland County 1 – 25-20, 23-25, 29-27, 25-21 – Jaelyn Lows led South Dearborn with 9 kills, 11 aces, and 2 blocks. Emily Elliot had 10 kills. Mackenzie Casebolt had 6 digs, 4 kills, and an ace.
Batesville 3, Greensburg 1 – 25-20, 22-25, 25-20, 27-25