East Central proved to be better than Lawrenceburg on the new artificial turf football field at ECHS on Friday. Find local varsity sports scores with one click, presented by Beacon Orthopaedics & Sports Medicine.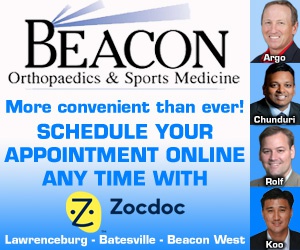 Please report missing scores to 888-537-9724 or email sports -at- eaglecountryonline.com.
FRIDAY, AUGUST 17
FOOTBALL
East Central 38, Lawrenceburg 7 – Eagle Country 99.3 Featured Game – Lawrenceburg possessed the ball for 33 minutes compared to East Central's 15, but the Trojans made more efficient use of their possessions. EC quarterback Alex Maxwell was named the Skyline Chili Crosstown Showdown MVP by rushing for 87 yards and three touchdowns, in addition to 40 yards passing. Eric Rosemeyer ran for another 196 yards and a touchdown. Lawrenceburg's only score of the game came on a one-yard run in the second quarter by Mason Kennedy. Tiger freshman QB Garrett Yoon was impressive, completing 9 passes for 87 yards and ran for 94. Adam Burd added 102 rushing yards to LHS' total.
East Central defeats Lawrenceburg, 38-7! Congrats to our @mercy_health Most Valuable Player from the Trojans, Alex Maxwell! Alex ran for 3 TD's tonight! pic.twitter.com/y4hHbkg5nv

— Crosstown Showdown (@xtownshowdown) August 18, 2018
Seymour 7, South Dearborn 0
Batesville 40, Jennings County 0
New Castle 42, Franklin County 12
Rushville 36, Milan 35 – Three turnovers plagued Milan in the season-opening loss. Milan running back Tyler Smith carried the ball 23 times for 151 yards and three touchdowns. Peyton Cavins tallied 34 rushing yards and a TD on five carries. QB David Carpenter was 6/16 passing for 88 yards while also rushing for 55 yards.
Bracken County 12, Switzerland County 0
Oldenburg Academy 28, Rock Creek Academy 13 – OA's Eli Sporleder ran for 147 yards and three scores, while passing for 70 more yards, in the Twister win. Caleb Lehman ran 12 times for 55 yards and a touchdown, while also picking off a pass on defense. Matthew Sedler caught four passes for 60 yards.
VOLLEYBALL
South Ripley 3, Jac-Cen-Del 0 – 25-16, 25-10, 25-19
SATURDAY, AUGUST 18
BOYS SOCCER
Lawrenceburg 3, Connersville 0
South Dearborn 2, Rushville 1 – South Dearborn's Lakota Carter kicked in both goals off assists from Jared Brose and Dawson Schoeder. Hunter Rose was great in the goal the entire match, making 8 saves.
Batesville 3, Franklin County 2 – Franklin County's Tommy Ratz scored a goal on a free kick and he assisted another goal kicked by Cledith Martin.
Rising Sun 7, Trinity Lutheran 0 – The Shiners' Zac Brokaw and Jake Bovard each found the back of the net three times. Brokaw also had two assists in the runaway win. Landon Cole netted Rising Sun's seventh goal and had an assist. Brent Webb made an assist. Keeper Jordan Parsons kept the shutout intact with 3 saves.
BOYS TENNIS
East Central Invitational
East Central won the first ever East Central Invitational on Saturday. The Trojans enjoyed wins over Milan 5-0 and Lincoln 3-2.
CROSS COUNTRY
EC Does Well At Richmond Invitational
Submitted by Fr. Jonathan Meyer - The East Central Cross Country Teams began their season by competing at the Richmond Invitational at the IU-East Cross Country Course this past Saturday.
The Lady Trojans lost their top runner last year, Abby Bittner, who is now a student athlete at IU East running Track. This year the Lady Trojans were led by Junior Emlilee Wedding, who ran in third place the majority of the race, but got beat during the last 300 meters by a competitor from Southport, thus placing forth. Emillee ran the exact same time as she did last year; she will be a strong leader for the team, as she was this past track season. Following close behind Wedding in the top 20 were Emma Fey (9), Lily Greiwe (10), Lauren Greiwe (14), Halle Davis (15) and Riley Davis (16). To have your top six runners in the top 20 is impressive.
Their low team score of 52 won them second place overall in the Invitational. Southport High School was first with 33 points and Connersville was third with 77 points. We look for a strong season from the Lady Trojans.
The boys' team lost four of its top five runners last year- all seniors (Andrew White, Kameron Geisen, Kaleb Geisen and Scott Jackson). Nonetheless, the Trojans ran well today. As a team they took forth (110) out of ten teams, behind Southport (42), Lawrence Central(59) & Hagerstown(61); last year they placed third.
They were led by Garret Ardis who placed 15th in a time of 19:07. He was followed by fellow senior, Kyle Gutfreund, who places 20th, being awarded a ribbon for making it in the top ten. The rest of the varsity runners were as follows: Griffin Werner (21), Michael Schwebach(25), Anders Fox (29), Owen Hagen (35), Kyle Schuman (48), and JJ Stenger (51). The team ran as a tight pack with Gutfreund and Fox spanning from 20th place the 29th place. Pack running can work well, so we will see what the season brings. Two newcomers to the varsity squad are Schwebach and Fox. Their performance today shows promise and a payoff for the hard work put in this summer.
In the reserve race, our runners ran well. Brooklyn Gill won the girl's race. In the boy's race, Parker Flemming ran strong, not taking first overall, but being the first Trojan across the line. The reserve (open) race showed a strong pack of Trojan Alumni: Alex Wedding, Andrew White, Kameron Geisen, Kaleb Geisen and Scott Jackson all crossing the line together, showing their Alma Mater pride.
South Ripley's Cole Wins Small School Invitational
South Ripley's Megan Cole won the girls race at the Small School Invitational at Blue River Cross Country Course in Shelbyville, crossing the finish line in 19:40. South Ripley placed 7th out of 28 schools participating. The South Ripley boys were 20th out of 29 teams.
GIRLS GOLF
Connersville Invitational
Franklin County placed second in a 14-team meet at the Connersville Invitational at Willowbrook Country Club on Saturday. The team score of 380 was thanks in part to a team-low of 85 by Maggie Brack, which was good enough to make the top 10. Camryn Brewer carded a round of 93. Batesville placed sixth.
GIRLS SOCCER
Badin (Ohio) 2, East Central 1 – Mackenzie Brown netted EC's only score off an assist from Eva Grimm.
Columbus North 3, Lawrenceburg 0
Trinity Lutheran 5, Rising Sun 4
VOLLEYBALL
Southport Invitational
Championship - East Central 2, Southport 1 – 25-18, 23-25, 15-13 – East Central won the Southport Invitational for the second straight year. EC's Mack Ewing had 13 kills. Bailey Grunkemeyer tallied 11 digs.
East Central 2, Indianapolis Lutheran 1 – 24-26, 25-9, 15-8 – Mack Ewing had 12 kills and 3 digs for East Central. Ashley Dudley put up 9 digs, 2 aces and a kill.
East Central 2, Indianapolis Scecina 1 – 25-18, 23-25, 15-13 – Mack Ewing had 14 kills and 5 digs to lead the Trojans. Molly Gregg had 11 digs, 6 kills, and 2 aces. Bailey Grunkemeyer added 12 digs and a kill.
#BACK2BACK SOUTHPORT CHAMPS!! #ECVB defeated a tough Southport team in the championship. It took us 3 sets, but we brought home the trophy! Awesome job, girls! JV finished 3rd on the day, going 2-1. pic.twitter.com/YbFO6NN3Je

— EC VOLLEYBALL (@EastCentralVB) August 18, 2018
Franklin County 3, Connersville 2 – 12-25, 20-25, 25-18, 25-18, 15-12 – FC's Jalynn Rogers had an excellent game with 12 digs and 4 backrow attack kills. Megan Getz had an ace, 7 assists, 3 kills and 7 digs
Shelbyville 3, Batesville 1 – 25-23, 12-25, 25-16, 25-22 – Macy Prickel led Batesville with 11 kills, 13 digs, and 3 aces. Jenna Ertel added 15 digs.