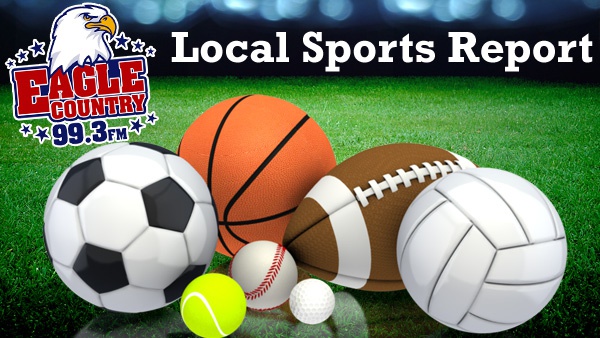 All 15 outs recorded by Rising Sun baseball on Monday were strikeouts by Brayden Bush.
Please report missing scores and statistics to 888-537-9724 or email sports -at- eaglecountryonline.com.
BASEBALL
South Dearborn 9, East Central 6 - The Knights totaled 10 hits. Ethan Getz led with a single, a double and 3 RBIs, Tobie Teke added 2 singles and an RBI, Peyton Shepherd had a double. Adding a single and an RBI each were Trey Thies, Grant McLane, and Jake Black. Rounding out the hits were Tristan Rinehart and Reese Willoughby with a single each. Adam Dixon added an RBI along with 3 solid innings of pitching with 7 strikeouts and only 2 hits which gave him the win for the Knights. -SouthDearbornAthletics.com
Batesville 4, Lawrenceburg 3 – Trey Heidlage, Lane Oesterling, and Calvin Sherwood each had an RBI for Batesville. Oesterling got the pitching win with 11 strikeouts, 6 hits, 2 walks, and 2 earned runs in 7.0 innings.
Bulldogs win in walk-off fashion after a Trey Heidlage double in the 7th to defeat Lawrenceburg 4-3! Lane Oesterling goes 7 innings strong with 11 Ks and a huge RBI late. With the help of energy from the bench, Varsity moves to 8-10 (4-4) heading into Greensburg at home tomorrow. pic.twitter.com/n86O5nIfMg

— Batesville Baseball (@BatesvilleBB) April 30, 2019
Franklin County 5, Greensburg 1 – FC's Bischoff had 13 Ks and gave up just 2 hits in a 7-inning complete game.
Rising Sun 12, Jac-Cen-Del 0 – Brayden Bush pitched a 5-inning no hitter while striking out every out recorded by the Shiners – 15 strikeouts! He also surrendered 5 walks. Jacob Bovard was the offensive star with 3 hits including a home run, a double, 4 RBI and 4 runs. Peyton Bell had 3 hits with 2 RBI and 2 runs.
Shawe Memorial 6, Switzerland County 5
SOFTBALL
Connersville 12, Lawrenceburg 2
Franklin County 4, Rushville 1
Rising Sun 23, Jac-Cen-Del 0 – Lots of Shiners played great, but Sydney Bostic had the best night. She had 3 hits including 2 doubles, 6 RBI, and 2 runs scored. Kassidy Romans added 3 hits, a double, 3 RBI and 4 runs. Sydney Pitts and Cora Poling combined to strike out 8 hitters and limit JCD to just 2 hits in 5 innings.
South Ripley 10, Milan 4 – South Ripley starter Maddie Tompkins earned the win in a complete game performance with 12 Ks, 3 hits, 2 walks, and 3 earned runs. Milan's Courtney Bruns had 2 hits with triple, 2 RBI and a run scored. Erin Widener added 2 hits with a double and an RBI for Milan.
Oldenburg Academy 8, Waldron 2
Switzerland County 19, Shawe Memorial 0
BOYS GOLF
Madison shot a 170 to defeat Switzerland County and Jac-Cen-Del. Madison's Luke Ommen was the low medalist with a two-over 38
GIRLS TENNIS
East Central 5, Lawrenceburg 0
Girls tennis enjoyed a 5-0 victory tonight over Lawrenceburg. We were all smiles after the match. @ECTrojanSports @tblacksunmande1 #ECtennis #11-1 pic.twitter.com/OZPFWmnZ6Y

— East Central Tennis (@ECTrojanTennis) April 29, 2019
Madison 5, South Dearborn 0