East Central golf player Kyle Leising's round of 33 led the Trojans in a defeat of Franklin County on Thursday. Find local varsity sports scores with one click, presented by Beacon Orthopaedics & Sports Medicine.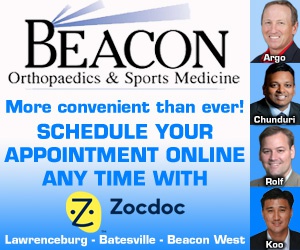 Please report missing scores to 888-537-9724 or email sports -at- eaglecountryonline.com.
BASEBALL
Franklin County 5, South Dearborn 3
Greensburg 3, Batesville 0 – Quinn Werner, Calvin Sherwood, and Brayden Worthington each had a hit for Batesville.
BOYS GOLF
East Central was led by medalist Kyle Leising's 33 in defeating Franklin County, 169-177, on Thursday.
GIRLS TENNIS
East Central 5, Union County 0
Franklin County 4, Greensburg 1
SOFTBALL
East Central 5, Milan 0
Greensburg 15, Batesville 4 – Kara Obermeyer Sierra Conn each tallied 2 RBI for the Bulldogs.
Franklin County 6, Rushville 2
Southwestern 16, Switzerland County 5
TRACK & FIELD
Southwestern 2nd, Trimble Co. 3rd, Switzerland Co. 5th and Shawe 8th in the boys Switzerland Co. Invitational. Switzerland Co. 1st, Southwestern 3rd, Trimble Co. 7th and Shawe 8th in the girl's division. Southwestern' s Taylor Cole was named Most Valuable Runner for the Girls and Mitchell Cline was named MVR for the boys.