Rising Sun softball put up 22 runs in a win Wednesday. Find local varsity sports scores with one click, presented by Beacon Orthopaedics & Sports Medicine.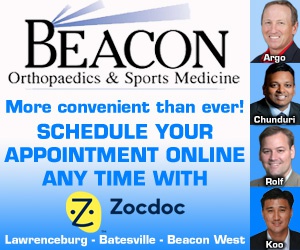 Please report missing scores to 888-537-9724 or email sports -at- eaglecountryonline.com.
BASEBALL
South Ripley 2, Rising Sun 1 – South Ripley's Avery Halcomb pitched for the complete game victory. Rising Sun's Stephen Jiminez was 1-for-3 with an RBI. Shiners pitcher Brent Turner took the hard luck loss, gong 7.0 innings with 8 strikeouts, 4 walks, and 7 hits allowed.
Southwestern 8, Milan 5
Switzerland County 10, New Washington 0
BOYS GOLF
South Dearborn bested Franklin County on the links at Brook Hill Golf Course on Wednesday, 166-191. South Dearborn's Drew Miller was the meet medalist with a low score of 36. Franklin County' best round was a 46 posted by Zach Jewell.
SOFTBALL
South Dearborn 3, Franklin County 1
Milan 9, Southwestern 3 – Milan pitcher Lexi Wert got the complete game win by going 7.0 innings with 11 Ks, while only walking 2 and giving up 6 hits. Offensively, the Indians were led by Courtney Bruns going 1-for-4 with 2 RBI and 2 runs scored. Erin Widener, Alexa Burton, Erica Karn, Taryn Cline, and Jordan Healy also had RBIs for Milan.
Rising Sun 22, South Ripley 7 – Rising Sun collected 14 hits and capitalized on three South Ripley errors to blow them out. Lindsay Montgomery was 2-for-2 with a home run, a double, 3 RBI, and 4 runs scored. Kassidy Romans went 1-for-3 with a triple, 4 RBI, and 2 runs scored.