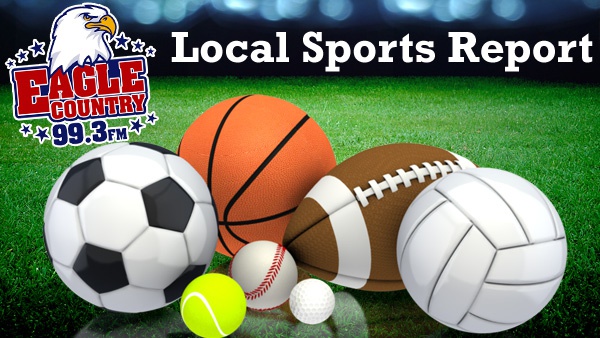 East Central, South Dearborn, and Rising Sun softball teams all had blowout wins Monday.
Please report missing scores and statistics to 888-537-9724 or email sports -at- eaglecountryonline.com.
BASEBALL
East Central 5, Connersville 2 EC starter Zach Monhollen pitched a 7.0 inning complete game with 8 strikeouts, 7 hits, 2 walks and 2 earned runs allowed. Jared Riehle led the offence with 2 hits including a double, 2 RBI, and a run scored. Logan Huisman and Zach Henson each added an RBI for EC.
South Dearborn 3, Greensburg 2 - Hitting for the Knights was Ethan Getz with 2 singles and an RBI and Tobie Teke with a double and a single. Trey Thies added 2 RBIs. Pitching for the Knights was Adam Dixon for 6 innings with 7 strikeouts and the winning pitcher was Jace Leonard for 2 innings with 3 strikeouts.
Franklin County 8, Batesville 7 – Batesville's Brayden Worthington had 3 RBI in the game.
Rising Sun 11, Shawe Memorial 0 – Three Rising Sun players had 2 RBI: Steven Jimenez, Landon Cole, and Dalton Snelling. Cole was the complete game pitcher for the Shiners, going 5.0 innings with 6 strikeouts and just one hit allowed on top of 3 walks.
Southwestern 2, South Ripley 1 – Bryce Franklin was great on the mound for South Ripley, but didn't get much run support. Franklin had 14 strikeouts in 7.2 innings while allowing only 3 hits, 3 walks, and no earned runs. Trenton Burford rapped in South Ripley's lone run.
Madison 10, Switzerland County 4
SOFTBALL
East Central 22, Franklin County 0 – East Central went wild with 21 hits, plus four walks. Natalie Schnell had the biggest numbers with 3 hits including a home run, a walk, 5 RBI, a run scored and 2 steals. Ysa Fox had 2 hits and 4 RBI. Lindsay Henson cruised to the win with 8 Ks and just 2 hits in 5.0 innings.
South Dearborn 11, Conner (Ky.) 1 – South Dearborn's Alexis Dittmer smacked a home run as part of a 3 hit, 4 RBI, 3 runs scored day. Jessi Matthews and Cameron Hoskins each had 2 RBI for SD. Graci Cornett started and got the win with 6 strikeouts in 3.0 innings.
Rising Sun 18, Shawe Memorial 0 – Rising Sun collected 13 walks and recorded 9 hits in the runaway victory. Lindsay Montgomery and Cora Poling each had 2 RBI for the Shiners. Poling and Sydney Pitts each had 5Ks in their turns as pitcher, with Pitts credited with the win. Shawe was limited to 3 hits.
Milan 6, Jac-Cen-Del 2 – Milan's Taryn Cline posted a home run and 2 RBI. Erin Widener had 3 hits and an RBI, while racking up 8 strikeouts in 7.0 innings as Milan's complete game pitcher.
South Ripley 6, Southwestern 4 – South Ripley grabbed an early lead and never gave it up. Halee Smith was 2-for-3 with 3 runs scored. Elli Waldron was 3-for-4 with 2 RBI. Mady Tompkins and Alexa Heidt each added an RBI. Ellie Waldron pitched well, goin 6.1 innings with 11 strikeouts, 7 hits, no walks, and 4 earned runs allowed.
BOYS GOLF
East Central defeated Rushville 191-219 on Monday. EC's Kyle Leising was the low medalist with a round of 42.
GIRLS TENNIS
Lawrenceburg 5, South Dearborn 0
Batesville 5, Rushville 0