East Central's girls track & field team won the Harrison Invitational on Friday. Find local varsity sports scores with one click, presented by Beacon Orthopaedics & Sports Medicine.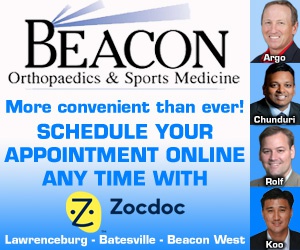 Please report missing scores to 888-537-9724 or email sports -at- eaglecountryonline.com.
FRIDAY, APRIL 13
BASEBALL
Lawrenceburg 14, Jac-Cen-Del 4 – Ethan Weimer kept up his hot hitting for Lawrenceburg by going 3-for-4 with a double, 3 RBI and 3 runs. Blake Buddenburg was 2-for-4 with 4 RBI and a run scored. LHS starter Matt Ohlhaut got the win by going 5.0 innings with 5 strikeouts, 4 walks, 2 hits, and one earned run allowed. Jac-Cen-Del's Morgan Sutton had an RBI.
East Central 7, South Ripley 3
Doc Morris Invitational - Batesville 8, Cooper (Ky.) 6 – Caleb Raab went 1-for-4 with 2 RBI for Batesville. Cooper's Braydon Runion hit a triple to drive in three runs.
Thanks @BatesvilleBB for the help@with the tarp! #teamwork #sportsmanship #DocMorrisTourney pic.twitter.com/RfPqpRzesR

— Scott Baseball (@ScottBoosters) April 14, 2018
Rising Sun 10, Milan 0
Switzerland County 14, Shawe Memorial 1
SOFTBALL
Lawrenceburg 20, South Ripley 1 – Cady Garcia knocked in South Ripley's lone run of the game.
South Dearborn 11, Connersville 7
Madison 9, Batesville 2 – Batesville's Kara Obermeyer had a hit, an RBI, and a run scored.
Franklin County 1, Union County 0 – Kendall McCool pitched great, going 7.0 innings of three-hit ball with 12 strikeouts and two walks. Kamryn McCool scored from second on an error in the sixth inning.
Franklin County 8, Union County 2 - Kamryn McCool was the winning pitcher for Franklin County, lasting 7.0 innings, allowing three hits and two unearned runs while striking out 13. Maggie Wendel and Gabby Mitchum had multiple hits for Franklin County.
Rising Sun 10, Milan 7 – Abby Wallace and Sydney Pitts each tallied 3 RBI for the Shiners. Pitts also starred on the mound, going all 7.0 innings to get the win. She struck out 5 Milan hitters and allowed 6 hits, 3 walks, and 3 earned runs. Milan's Jordan Healy was good in going 1-for-3 with a grand slam. Taryn Cline had a three-run homer.
Switzerland County 14, Shawe Memorial 2
Greensburg 5, Jac-Cen-Del 0
TRACK & FIELD
East Central's girls won the 18-team Harrison Invitational on Friday with a team scored of 115, well ahead of second place Fairfield's 79. The EC girls' event winners were the 3200M relay team of Fey, Greiwe, Bittney and Wedding. Emma Fey won the 400M dash in 1:01.71. Abby Bittner took the title in the 800M run at 2:25.35. The East Central boys came in 6th in the team standings.
You are looking at the Harrison Invitational team champions! Congratulations ladies! I am so proud of every single one of you! @ECTrojanSports pic.twitter.com/CuKpAJpPXl

— Ashley Andres (@ECentralTrack) April 14, 2018
SATURDAY, APRIL 14
BASEBALL
Doc Morris Invitational - Batesville 10, Grant County (Ky.) 7 – Batesville's Caleb Raab led the way by going 2-for-4 with a double and 2 RBI.
Doc Morris Invitational - St. Henry (Ky.) 11, Batesville 5 – Batesville's Trey Heidlage was 1-for-2 with 3 RBI. Batesville went 2-1 at the invitational event in northern Kentucky.
GIRLS TENNIS
Greensburg 4, South Dearborn 1 – South Dearborn #2 singles Sydney Yoe defeated Allie Acra 7-5, 6-0.