Baseball and softball teams braved the cold to play their games on Saturday. Find local varsity sports scores with one click, presented by Beacon Orthopaedics & Sports Medicine.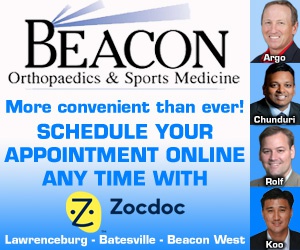 Please report missing scores to 888-537-9724 or email sports -at- eaglecountryonline.com.
FRIDAY, APRIL 6
BASEBALL
Lawrenceburg 11, Austin 5 – The Tigers got the win thanks in part to Eli Helton's 3-for-5, 3 RBI, 3 runs scored performance. Ethan Weimer added 2 RBI on 2-for-4 hitting. Matt Ohlhaut pitched 5.0 innings with 6 Ks to get the win.
Rising Sun 13, Oldenburg Academy 3 – Rising Sun's Brent Turner was 3-for-3 with 2 doubles, 3 RBI and 2 runs scored. Colby Ritter went 1-for-3 with 3 RBI and a run scored. Shiner pitchers Brabon Buch and Stephen Jimenez combined for 12 strikeouts and just 3 hits allowed.
South Ripley 7, Greensburg 3
Switzerland County 18, Jac-Cen-Del 12 – JCD's Dustin Herbert, Michael Flint, and Miles McAdams each had 2 RBI.
SOFTBALL
Harrison 5, East Central 1
Martinsville 8, South Dearborn 0
Jac-Cen-Del 13, Switzerland County 0 – JCD's Karlee Wolfe and Emma Tunny both had 2 hits and 3 RBI. Morgen Carroll had 2 hits with a home run and 2 RBI. Carroll also earned the win by striking out 9 Switz batters over 4.0 innings.
SATURDAY, APRIL 7
BASEBALL
Austin 10, Switzerland County 3 – Switz's Cade Rider had a double and scored two runs.
BOYS GOLF
Batesville won the Brown County Invitational golf tournament.
SOFTBALL
Franklin County 6, Jac-Cen-Del 1 – Franklin County starter Kamryn McCool cooled the Eagles' bats to earn her first victory of the season. She struck out thirteen, and allowed just two hits and one walk. Morgen Carroll knocked in JCD's only run of the game. She also struck out 15 FC batters in taking the hard-luck loss.