The Lady Shiners star hit two grand slams and had 21 RBIs last week.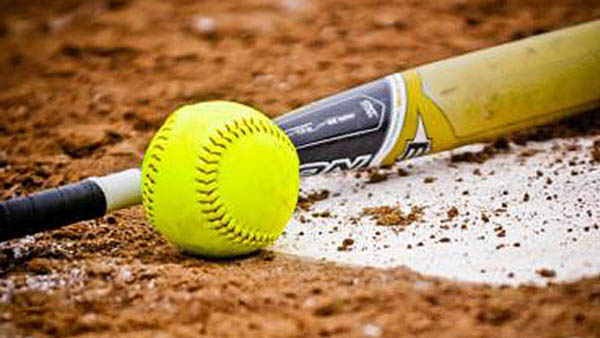 (Rising Sun, Ind.) – Two Rising Sun High School student-athletes highlight this week's Ohio River Valley Conference weekly awards.
The ORVC report for the week of May 6-10 was released on Tuesday.
Lindsay Montgomery was named the ORVC Softball Player of the Week. The Lady Shiners star swung a hot bat, driving in 21 runs on 10 hits, including two grand slams.
Her classmate, Jacob Bovard shared ORVC Baseball Player of the Week honors with South Ripley's Bryce Franklin.
Bovard also swung a hot bat last week, going 9-15 with nine runs scored and three RBIs. He also picked up a complete game win on the mound with 10 strikeouts.
Franklin earned weekly honors by throwing a no-hitter, in addition to collected seven hits, six RBIs and four runs over a four-game span.
Switzerland County's Tyler Konkle is the ORVC Boys Golfer of the Week. The Pacers star shot 38 at Belterra.
In track and field, the Switzerland County boys and Southwestern girls placed first at the ORVC Meet at Switzerland County High School.
Other top performers for the week of May 6-10 are listed below
BASEBALL
Dustin Herbert (JCD) 2 hits, RBI in 3 games
Nate Scroggins (JCD) 2 hits, 2 2B, run, RBI in 3 games
TJ Menchhofer (JCD) hit, run, RBI in 3 games
Steven Jimenez (RS) 7-13, 7 runs, GC with 0 ER and 10K's last week
Landon Cole (RS) 6-13, 7 runs, 7 RBI last week
Nate Pawlak (SM) GC, 1 ER, 3 hits allowed vs. New Washington / 3-4, RBI
Bryer Franklin (SR) 5 RBI, 4 hits, run, 3B, SB in 4 games
Aaron Griewe (SR) 2 hits, 2 runs, 2 RBI / 7 IP, 1 ER, 11 K's in win
Zach Cole (SW) 4-9. 4 RBI, 4 runs, 2 2B, 2 SB / 5 IP, 7K's in win vs. South Ripley
Cade Rider (SC) 7 RBI, 6 runs, 3 hits, 3 SB, 2B in 4 games
Damian Breeck (SC) 4 hits, 3 runs, 2 SB in 4 games
Nathan Scudder (SC) 3 hits, 2 runs, 2 RBI, 2 SB in 4 games
Grayden Taylor (M) 5 hits, 2 runs, 2 RBI in 2 games
SOFTBALL
Courtney Bruns (M) 8 hits, 7 runs, 3 RBI, 2 SB in 4 games
Taryn Cline (M) 6 RBI, 5 hits, 4 2B, 2 runs in 4 games
Cassie Franklin (M) 7 hits, 6 RBI, 4 runs, 2 2B in 4 games
Sydney Pitts (RS) 9 RBI, 8 runs, 7 hits, 3 SB in 4 games / 20 IP, 6 ER, 22 K's going 4-0
Emma Levi (RS) 7 runs, 5 hits, 3 RBI, 2B, 3B in 4 games
Grace McAllister (SM) 3 hits in 3 games
Ellie Waldron (SR) 4 hits, 3 2B, run, RBI in 4 games
Alex Heidt (SR) 4 hits, 2 runs, 2 RBI, 3B in 4 games
Madelyn Tompkins (SR) 17 IP, 8 ER, 21 K's going 1-2 last week
Morgan Mahoney (SW) 8 hits, 6 runs, 6 RBI, 2 2B, 3B in 4 games
Lakyn Wilson (SW) 6 RBI, 4 hits, 2 2B, run in 4 games / 13 IP, 1 ER, 14K's going 2-0
Jessie Duvall (SC) 5 hits, 4 runs, 3 RBI, 2 2B, 3B in 4 games
Maddie Duvall (SC) 5 hits, 5 RBI, 4 runs, 2 3B, 2B in 4 games
Lily Sparks (SC) 4 hits, 3 runs, 2 RBI, SB / 19 IP, 4 ER, 22 K's last week
BOYS GOLF
Josh Clark (M) 43 @ Sunrise / 45 @ Hoosier Links
Matt Schmidt (M) 45 @ Sunrise / 45 @ Hoosier Links
Parker Lewis (M) 39 @ Hoosier Links
Boys Track & Field Girls Track & Field
Zach Howlett (SC) 135'6" Discus Maddie Wilson (RS) 94'3"
Zach Howlett (SC) 45'5" Shot Put Shaylee Volz (JCD) 30'10½"
Mitchell Cline (SW) 19'¾" Long Jump Lauren Lundergan (SM) 14'8¾"
Jacob Elliott (SR) 5'10" High Jump Aleiah Thomas (SC) 5'0"
Daniel Daugherty (RS) :16.02 High Hurdles Kayla Simon (JCD) :16.37
Caleb Ream (SW) :41.93 Low Hurdles Cloey Simon (JCD) :47.81
Peyton Cavins (M) :11.21 100 Raylinn Kappes (SC) :12.93
Mitchell Cline (SW) :22.71 200 Raylinn Kappes (SC) :27.62
Mitchell Cline (SW) :49.18* 400 Kinsey Price (RS) 1:02.58
Damon Hughes (JCD) 2:08.97 800 Leah Anders (SC) 2:31.75
Damon Hughes (JCD) 4:40.41 1600 Megan Cole (SR) 5:17.59*
Bradley Winston (SW) 10:34.62 3200 Megan Cole (SR) 11:20.41*
Southwestern :46.56 400 relay Switzerland County :53.80
(Kaden Zellers, Adam Anderson, (Jayden Thomas, Raylinn Kappes,
Caleb Ream, Jacob Grider) Sydney Thomas, Aleiah Thomas)
Southwestern 3:39.41 1600 relay Switzerland County 4:26.84
(Brandon Smith, Adam Anderson, (Abby Niswander, Lilly Northcutt,
Caleb Ream, Jacob Grider) Willow Lieland, Ally Furnish)
Southwestern 9:20.75 3200 relay South Ripley 10:31.03
(Brandon Smith, Caleb Geary, (Megan Cole, Deborah Murphy,
Gavyn Mundt, Bradley Winston) Emily Campbell, Elyse Hunger)