Elena Thatcher captured first place at the USA Girls Preseason Folkstyle Nationals.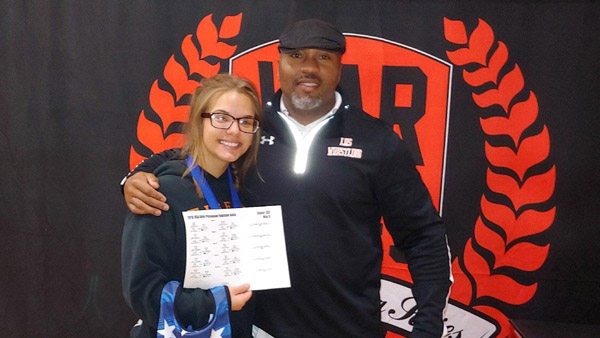 Elena Thatcher with coach Jeremy Shepherd after she won the 132 pound cadet division at the USA Girls Preseason Folkstyle Nationals on Saturday, October 20. Photo provided.
(New Palestine, Ind.) – After finishing third at the Indiana High School Girls Wrestling State Finals last winter, Elena Thatcher is upping her expectations for the 2018-2019 season.
Thatcher, a sophomore at Lawrenceburg High School, was crowned champion of the 132 pound cadet weight class at the USA Girls Preseason Folkstyle Nationals held at New Palestine High School on October 20.
"She faced a nationally-ranked wrestler from Iowa and a national rank wrestler from Indiana as well as two other wrestlers from Ohio and was champion of her weight class. Was a great weekend of wrestling and proud of her and the hard work she has put in," says coach Jeremy Shepherd.
In winning the title at the first meet of the season, Thatcher defeated Mallory Chunat, of Cincinnati, by pinfall at 3:18 in the championship match.
This season, Thatcher is a member of the Indiana IGNITES, a statewide team of the state's top female wrestlers.
RELATED STORIES:
Lady Tiger Pins Third Place At Indiana Girls Wrestling State Finals