White scored 906 points at the varsity level for the Lawrenceburg Tigers.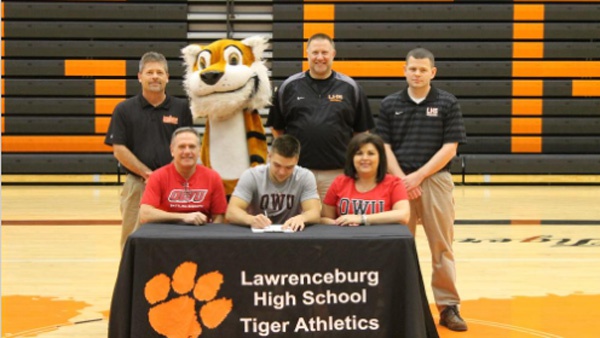 Curtis White signs to play for Ohio Wesleyan University. He is surrounded by (clockwise from bottom right) mother Holly White, father Montie White, assistant coach Nick Scalf, LHS Tiger mascot, AD Joe Vogelgesang, and head coach John Blackwell. Photo provided.
(Lawrenceburg, Ind.) - Lawrenceburg High School guard Curtis White's high school basketball career may have been cut short by injury, but he will play again.
On Friday, LHS athletic director Joe Vogelgesang announced that White has signed to play basketball collegiately at Ohio Wesleyan University in Delaware, Ohio.
White was a three-years varsity starter for coach John Blackwell's Tigers, helping the team go 43-19 when he started games.
In four years of varsity action, White scored 906 points. Before his 2017-18 senior season was ended after just 13 games due to an injury, he was averaging 18.0 points per game, 4.0 rebounds, and 3.6 assists per game.
Blackwell said coaching Curtis was an absolute joy.
"He has some talent. He also has a passion for the game, a relentless work ethic, a competitive spirit that is balanced with a humility, leadership skills and a positive personality that blends well with everyone," Blackwell said.
Seeing White's senior season stopped prematurely was one of the toughest things the coach said he has had to deal with professionally.
"Obviously it hurt our team, but I just mean for him, because of all he has put in. I can't wait to watch him play again," added Blackwell.
Ohio Wesleyan University coach Mike DeWitt's Battling Bishops went 19-9 last year. The NCAA Division III team competes in the North Coast Athletic Conference.