The EIAC has named its top football players for the 2019 season.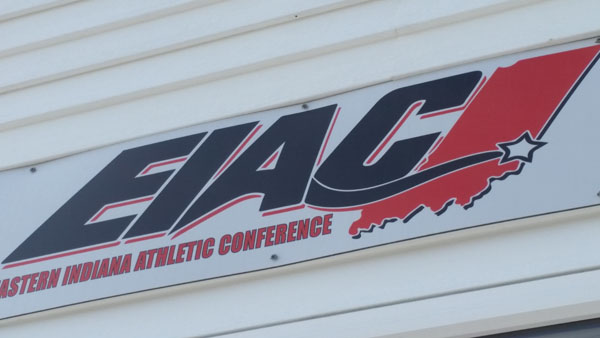 (Lawrenceburg, Ind.) – Lawrenceburg, East Central, South Dearborn and Batesville all produced a conference MVP this football season.
The Eastern Indiana Athletic Conference released its 2019 Football All-Conference Teams, MVP's and Coaches of the Year on Monday.
Lawrenceburg quarterback Garrett Yoon was named the EIAC 3A Division Offensive MVP. Yoon passed for 2,332 yards and 28 touchdowns. He also ran for 1,004 yards and 12 TDs.
Yoon, a sophomore, helped the Tigers to an 11-2 record, an EIAC 3A Division Championship and a Sectional title.
Other Tigers earning All-Conference honors include, Adam Burd, Mason Kennedy, Dayha Patel, Ethan Parris, Jason Morton, Daulton Dixon, Brayden York, Ashton Craig, Andrew Rennekamp, Aiden Gilmour and Jayce Bohan.
Tigers head coach Ryan Knigga is the 2019 EIAC 3A Division Coach of the Year.
The EIAC 3A Division Defensive MVP went to Batesville's Brayden Linkel. The senior middle linebacker led the Bulldogs with 161 tackles, including 86 solo tackles and 9.5 tackles for a loss.
In Class 4A, South Dearborn senior quarterback Adam Dixon was named the Offensive MVP. His season was cut short due to injury, but in nine games Dixon threw for 1,655 yards and 17 touchdowns.
East Central, the 4A Division Champions, were led by 14 All-EIAC performers, including Defensive MVP Kyle Krummen. The pass rusher totaled 63 tackles, 13 tackles for a loss and 3.5 sacks.
Other Trojans earning All-Conference honors are Trevor Becker, David Badescu, Devin Salyers, Luke Collinsworth, Justin Ryan, Gage Ertel, Kole Viel, Nathan Griffin, Jake Fike, Sophie Browndyke, Troy Teepe, Erik Perkins and Devon Donawerth.
Trojans head coach Jake Meiners is the 2019 EIAC 4A Division Coach of the Year.
The 2019 All-EIAC Football Team is listed below.
4A Division
East Central (3-0) – Kyle Krummen (Def. MVP), Trevor Becker, David Badescu, Devin Salyers, Luke Collinsworth, Justin Ryan, Gage Ertel, Kole Viel, Nathan Griffin, Jake Fike, Sophie Browndyke, Troy Teepe, Erik Perkins and Devon Donawerth
Franklin County (2-1) – Luke Moster, Hunter Tschaenn, Brady Bogan, Bridger Bolos
South Dearborn (1-2) – Adam Dixon (Off. MVP), Andy Daugherty, Bryce Valdez, Dalton Guthrie, Jake Black, Bailey Whitlock
Connersville (0-3) – Evan Shafer, Alex Edwards
3A Division
Lawrenceburg (3-0) – Garrett Yoon (Off. MVP), Adam Burd, Mason Kennedy, Dayha Patel, Ethan Parris, Jason Morton, Daulton Dixon, Brayden York, Ashton Craig, Andrew Rennekamp, Aiden Gilmour and Jayce Bohan
Greensburg (2-1) – Avery Moore, Clint Lorenz, Robbie Lorenz, Aaron Moeller, Eric Lowe, Cole Nobbe, Ben Bausback, Troy Brogan
Batesville (1-2) – Brayden Linkel (Def. MVP), Jake Cruse, Sam Bowman
Rushville (0-3) – Jake Vance, Hayden Walls, Hunter Applegate