Juliana Kemper had an outstanding junior season for the Lawrenceburg Tigers.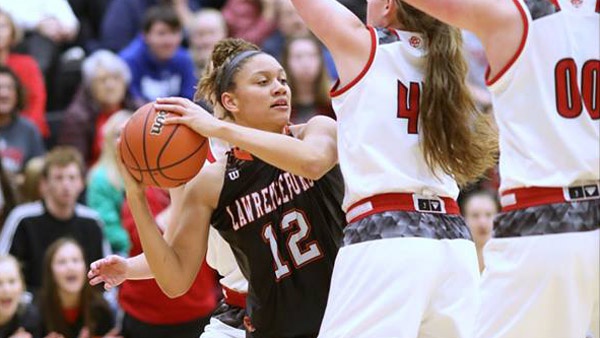 Lawrenceburg High School's Juliana Kemper was named the 2018-2019 EIAC Girls Basketball MVP. Photo by Jacki Clawson.
(Lawrenceburg, Ind.) – Lawrenceburg High School basketball star Juliana Kemper can shoot, pass, rebound, and defend.
She finished among the top six Eastern Indiana Athletic Conference players in four key statistical categories, making her an easy choice for the 2018-2019 EIAC Girls Basketball Most Valuable Player.
Kemper, a junior, led the 13 players selected to the all-conference team, announced Friday. Her 83 votes from conference coaches were ahead of Greensburg senior Aliyah Evans' 67.
The only LHS Tiger to make the all-conference squad, Kemper led the EIAC in scoring at 20.6 points per game and rebounding at 12.6 rebounds per game. She was second in the conference in steals with 3.0 per game and sixth in assists with 2.7 per game.
Also on Friday, Juliana received a proclamation from Lawrenceburg Mayor Kelly Mollaun, who announced February 8, 2019 as Juliana Kemper Day in the city.
The complete EIAC Girls Basketball All-Conference team is as follows, with coaches' vote totals in parenthesis:
1. Juliana Kemper, Lawrenceburg (83)
2. Aliyah Evans, Greensburg (67)
3. Taylor Browning, Rushville (66)
4. Hattie Westerfeld, Batesville (65)
5. Brilan McCory, East Central (49)
5. Melina Wilkison, Greensburg (49)
7. Marley Smith, Connersville (38)
8. Logan Cox, East Central (32)
9. Allie Smith, Rushville (31)
10. Micha Morrison, Greensburg (29)
11. Alyssa Robben, East Central (26)
12. Abby Orschell, Franklin County (24)
12. Kyrstin Bond, South Dearborn (24)