Chrisman is one of the best punters in Ohio State program history.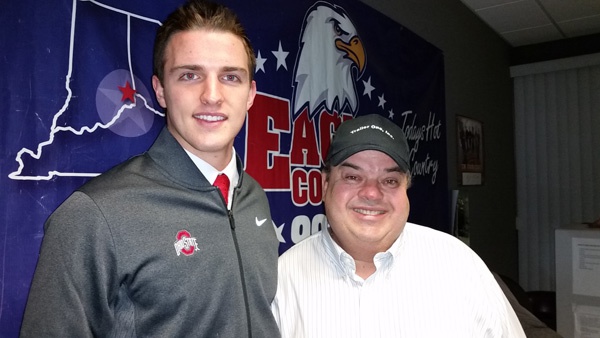 Drue Chrisman with Eagle Country 99.3's Bubba Bo. File photo.
(Lawrenceburg, Ind.) – Not many people from these parts can say they have received a letter from the National Football League.
Drue Chrisman received a letter over the weekend stating that he has been selected to participate in the 2021 NFL Scouting Combine.
The Combine is normally held in Indianapolis, just a short distance from Chrisman's hometown of Lawrenceburg. However, this year's Combine will be held virtually.
Still, Chrisman is honored to have the opportunity to show his skills in front of NFL teams.
"Dream come true. Incredibly honored no matter what it looks like this year," Chrisman said in a Tweet on Sunday.
Chrisman is among the top punting prospects in the 2021 NFL Draft.
His career average of 43.9 yards per punt ranks fifth in Ohio State history. Chrisman is a marksman too, placing 72 career punts inside the 20-yard line, the third most in program history.
In 2017 and 2018, Chrisman was a Ray Guy semifinalist. Prior to the 2020 season, he was named Second Team Preseason All-American by Chris Sailer Kicking.
The 2021 NFL Draft takes place April 29- May 1.
Dream come true🙏🏼 Incredibly honored no matter what it looks like this year pic.twitter.com/T4kH4hO66c

— Drue Chrisman (@DChrisman91) January 31, 2021