There are multiple ways for you to donate to the cause.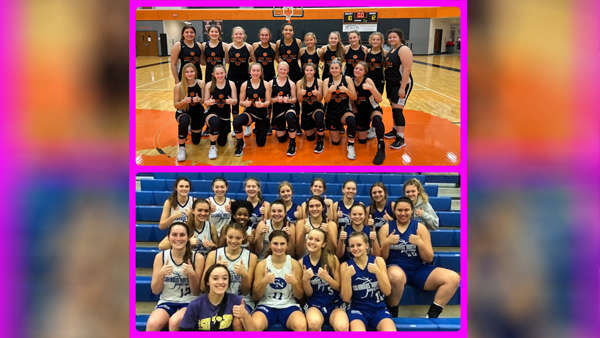 Lady Tiger Basketball (@LburgLadyTigers) / Twitter photo.
(Lawrenceburg, Ind.) – The Lawrenceburg Lady Tigers basketball team is joining forces with Columbus North to fight against breast cancer.
The two teams will compete on Saturday, January 15 at Lawrenceburg High School (JV contest at noon, varsity at 1:30 p.m.), but what the teams are doing off the court will be impactful.
There are multiple ways to join the fight against breast cancer:
- Attend the game
- Donate to the cause
- Buy a t-shirt
- Join in on gameday raffles
Autographed pink LHS ball
Autographed pink Columbus North ball
Picture of LHS and Columbus North teams framed
Autographed Full sized Adidas basketball – Mike Woodson (IU basketball coach)
Autographed Pic of Teri Moren (IU basketball coach)
Autographed Pic of Mike Woodson (IU basketball coach)
Autographed Pic of Tom Allen (IU football coach)
Gift card to FinalCut
Gift card to Barstool Restaurant (within Casino)
Bengal Game Pants, Socks and Gloves
The funds raised will benefit the IWIN Foundation and keeping breast cancer patients in treatment.
T-shirts are available for $15. For every t-shirt sold, $7 will support breast cancer patients. The Fight Against Breast Cancer fundraising goal is $2,000.
Donations will close on January 16.
For more information about the cause and to donate, visit Tigers VS Bulldogs - Fight Against Breast Cancer - JustGiving.
T-shirts can be purchased at Tigers VS Bulldogs Fight Against Breast Cancer 2021 | Ohio Valley Screenprinting | powered by OrderMyGear (itemorder.com).
Other gameday festivities include
Honor Wall - Players will recognize survivors and those who have fought breast cancer (and other forms) between the JV and Varsity game
Youth Day - recognizing Community Center teams, CES and GMS teams during the day.