Stars from South Ripley, EC, Milan and Batesville earned recognition.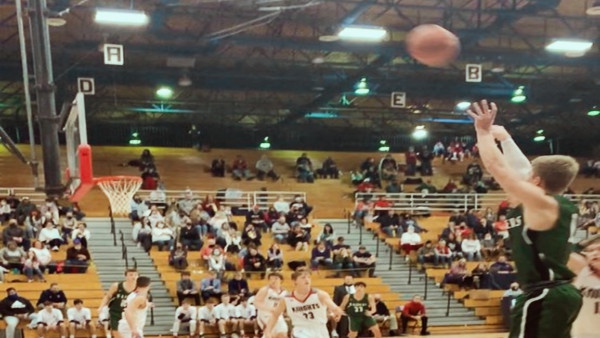 With this shot, Cody Samples broke the all-time scoring record in South Ripley boys basketball program history. Photo by Rob Moorhead.
(Indianapolis, Ind.) – Some of the top boys basketball players in the area have earned recognition for their play this season.
The Hoosier Basketball Coaches Association released their 2020-21 Boys All-District Teams on Tuesday.
Five players from Eagle Country made the District 3 Team:
Cody Samples, South Ripley
Logan Rohrbacher, East Central
Luke Collinsworth, East Central
Peyton Wert, Milan
Sam Voegele, Batesville
Samples recently set the career scoring record at South Ripley, passing Steve Allen at the top of the list. Allen had previously set the mark at 1,287 points in 1978. With four games left in the regular season, Samples has 1,302 career points and is averaging 21.7 points per game.
Rohrbacher (20.3 ppg) and Collinsworth (17.5 ppg) are among the top scoring duos in the state. They also get it done on the backboards, as both players average 7.2 rebounds per game.
Wert is among the statistical leaders in the ORVC, averaging nearly 15.0 points per game, 5.5 rebounds, and a conference best 6.5 assist per game.
For Voegele, he is starring for a resurgent Batesville team that has won five of its last eight, averaging 14.4 ppg.
The rest of the District 3 Team was made up of Blake Barker (Columbus North), Lane Lauderbaugh (South Decatur), Lane Sparks (Greensburg), Reese Harmon (Columbus North), Tyler Boyer (Columbus East).
For more information, visit 2020–2021 BOYS All-District Teams — HBCA (hbcahoops.org).
RELATED STORIES
Cody Samples Stands Alone As South Ripley's All-Time Leading Scorer