The Wildcats recently finished as the district runner-up.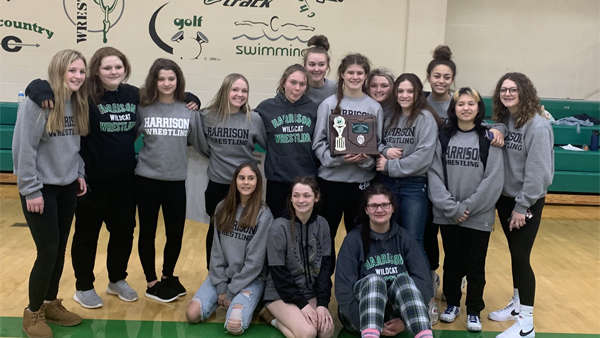 Harrison Girls Wrestling. Twitter photo (1) HarrisonGirlsWrestling (@girls_harrison) / Twitter.
(Harrison, Oh.) - Eight wrestlers from Harrison High School have qualified for the State Tournament.
The Harrison girls wrestling team recently finished as the 2022 District Runner-Up, only 2.5-points behind champion Greeneview.
Advancing to the State Tournament is Chloe Dearwester, Mia Hotchkiss, Raegan Briggs, Lilly Kinsel, Aaliya Lee, Molly Hudler, Rylee Kirkwood, and Jessica Edwards.
Harrison will enter the State Tournament with two wrestlers ranked #1 in their weight classes.
Chloe Dearwester is the defending state champion and the top-ranked wrestler at 105 lbs. She is 12-0 on the season with 12 pins. Her teammate, Raegan Briggs is ranked #1 at 115 lbs. She is 27-0 with 26 pins.
The OHSWCA Girls State Tournament will take place Saturday, February 19 and Sunday, February 20 at Hilliard Davidson High School.
For more information, visit OHSWCA Girls State Wrestling Tournament (trackwrestling.com).
2022 District Runner-Up. Girls battled hard all day long. Very proud of them all. 8 State Qualifiers in a VERY tough District. State tournament will be fun next week. @wildcatsofhhs @WrestlingHW @mlaughman @OHGirlWrestling pic.twitter.com/ZkytmLBZn3

— HarrisonGirlsWrestling (@girls_harrison) February 13, 2022