The Wildcats won their first State Championship in February.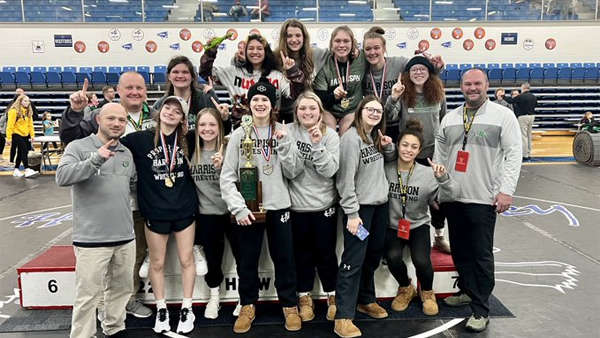 Harrison is the 2022 Ohio OHSWCA Team State Champion. Photo by SLSD Superintendent John Hamstra.
(Harrison, Oh.) – Harrison High School has a nationally ranked girls wrestling team.
The 2021-22 National Girls High School Rankings were released last week.
The rankings are compiled by representation from USA Wrestling, FloWrestling and the National Wrestling Hall of Fame and Museum.
This year, the committee selected the Top 30 high school teams in the nation, in addition to 15 honorable mention teams.
Harrison checked in at #11 in the rankings.
Like most teams in the Top 30, Harrison captured a state championship this year, winning the OHSWCA State Tournament for the first time in school history.
Chloe Dearwester and Raegan Briggs were the top performers for Harrison, winning state titles at 105 lbs. and 115 lbs., respectively. For Dearwester, she has won consecutive state championships and is ranked 9th in the nation at 106 lbs.
Briggs ranks 23rd nationally at 112 lbs.
Lilly Kinsel, Molly Hudler, and Jessica Edwards also played a key role in Harrison's national ranking by placing at the state championship. Kinsel was the state runner-up at 130 lbs., Hudler finished 5th at 170, and Edwards was 7th in the 235 lbs. tournament.
Moving forward, the rankings committee would like to expand the rankings in 2022-23 to include a pre-season ranking, mid-season ranking, and final ranking.
For more information, visit Wyoming Sem Tops 2021-22 Girls High School Team Rankings - FloWrestling.
RELATED STORIES