The Globetrotters will perform at East Central High School Thursday night, then in Madison, Indiana on January 27.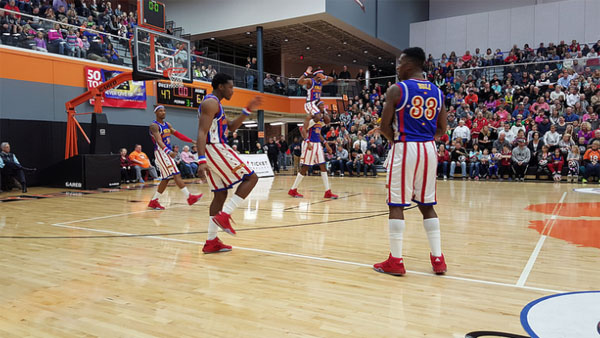 The Harlem Globetrotters visited Lawrenceburg in 2016. File photo.
(St. Leon, Ind.) - Here's a perk for federal workers who aren't on the job.
The Harlem Globetrotters say any furloughed federal employee can get two free tickets to any of their 2019 Fan Powered North American tour games in Indiana this month. The world-famous Globetrotters made the announcement Wednesday.
"As the Ambassadors of Goodwill, we want to show our support to all those government workers whose paychecks, and by extension their families, are directly impacted," said Globetrotter President Howard Smith.
The free ticket promotion for federal workers includes the Globetrotters' show Thursday night, January 17 at East Central High School in St. Leon. It is also the case for the troop's Tuesday, January 29 performance at Madison High School.
According to the Globetrotters, any U.S. government employee currently on furlough can show their valid government ID at their local box office and receive two complimentary tickets to a Harlem Globetrotter game in North America while supplies last. The offer is only valid during the current government shutdown and is not valid on previously purchased tickets. Quantities are limited and seat locations vary by venue. Fans are asked to check with their local box office for details.
The Globetrotters' full schedule can be found at https://www.harlemglobetrotters.com/tickets.
We're offering free tickets to all US government employees currently on furlough. Details: https://t.co/gRmpV8HsW2 pic.twitter.com/2lFHTH39vi

— Harlem Globetrotters (@Globies) January 16, 2019