Scudder previously served as a boys varsity basketball assistant coach at Harrison High School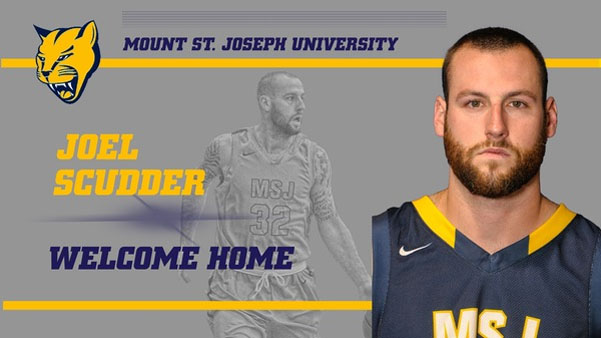 Joel Scudder is set to return to Mount St. Joseph as a tennis and basketball coach. Photo by MSJ Athletics.
(Cincinnati, Oh.) – One of the best basketball players in Mount St. Joseph University history is coming home to coach.
The Mount St. Joseph athletic department recently announced that Joel Scudder will be returning to the basketball program as an assistant coach. Scudder will also serve as the new head tennis coach at The Mount.
Scudder graduated from The Mount just three years ago, where he became the second leading scorer in school history with 1,565 career points. The former South Dearborn Knights star also holds the record for career three-pointers and three-pointers in a game.
Following his playing career, Scudder served as a varsity assistant coach at Harrison High School, paving the way for a return to his former home.
"When I graduated and got into coaching, I instantly started thinking of how I would get back to The Mount." Scudder said. "This place was my home for four years, as soon as the news broke about Coach Ray leaving, I called Coach Carrigan to express my interest in the position. I am so excited to get going as the new head tennis coach, and assistant men's basketball coach at The Mount."
Scudder will coach under his former coach Toby Carrigan. During their time together at The Mount, the Lions won two HCAC regular-season titles, and made the Division III NCAA Tournament for the first time in school history.
"We are extremely excited to welcome Joel back to The Mount community." Coach Carrigan said of Scudder "It will be a seamless transition for him into the athletic department and his responsibilities on campus. Joel has a championship mindset and is extremely competitive. I look forward to working with him and continuing to move our program forward."