Chuck Harmon was born and raised in southern Indiana. He died Tuesday at age 94.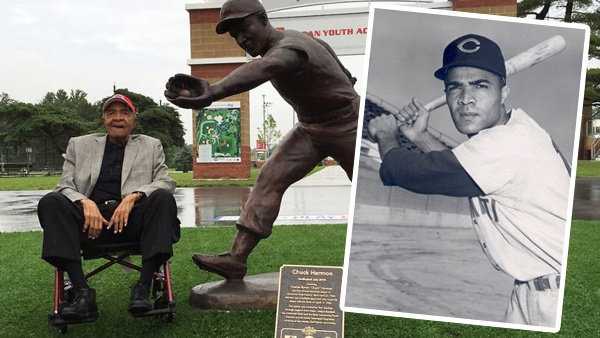 Chuck Harmon. Photos courtesy of Cincinnati Reds.
(Cincinnati, Oh.) - The Cincinnati Reds and baseball fans are mourning the death of the team's first African-American player.
Team officials announced that Chuck Harmon died at the age of 94 on Tuesday, March 19.
Harmon joined the Reds in 1954, seven years after Jackie Robinson broke baseball's color barrier.
"The entire Reds family is saddened to lose one of its great ambassadors. The first African American to play for the Reds, Chuck Harmon was much more than a ballplayer," said Reds Chief Executive Officer Bob Castellini. "He represents a pivot point in Reds history. Chuck's positive attitude and disposition helped diffuse the adversity he faced, and set the tone for those following in his footsteps. He was beloved by his teammates during his career and remained a treasure to this franchise and its fans throughout his life. He will be missed."
The native Hoosier was born and raised in Washington, Indiana as one of 12 children. He grew up playing baseball and basketball, even helping Washington High School win a couple state championships in 1941 and 1942. Following high school, he played college basketball and baseball at the University of Toledo. He tried out for the Boston Celtics in 1950, but when he didn't make the team he turned his focus to playing baseball professionally.
Following his pro baseball playing days, he became a longtime Cincinnati resident and a regular at Great American Ball Park.
Former Eagle Country 99.3 WSCH-FM news director and station owner Marty Pieratt wrote Harmon's biography First Black Red, published in 2010.
"My time spent working with Mr. Harmon on the book #FirstBlackRed was one of the great thrills of my life," Pieratt said on Facebook. "I thank his family, especially his nephews - and my dear friends - Tom and Bill Harmon. Their dad, Bill, combined with uncle Chuck to win a couple of state basketball titles at Washington, Indiana. Wonderful family. What a life for Mr. Harmon. Thousands, if not millions, will honor him for many years to come."
Harmon was inducted into the Indiana Baseball Hall of Fame in 1995.