Taylor's offensive line just got better.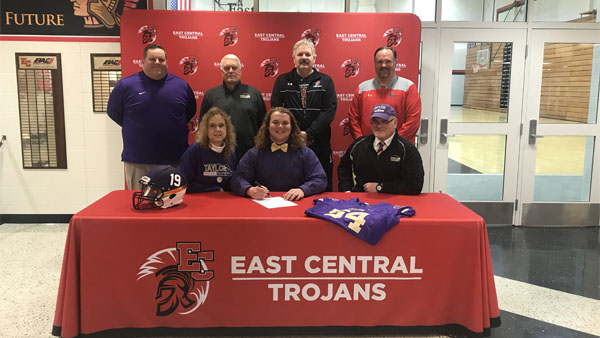 Michael Medlock signs his letter of intent to play football at Taylor University. Photo by EC Athletics.
(St. Leon, Ind.) – Once a Trojan always a Trojan.
After four years of anchoring the East Central Trojans offensive line, Michael Medlock has committed to play football for the Taylor University Trojans.
As a senior captain, Medlock helped the Trojans to an 11-2 record in 2018, including conference and sectional titles. He was also a starter on the 2017 IHSAA Class 4A State Championship team.
Medlock is a four-time Offensive Lineman of the Year at East Central. During that time span, the Trojans averaged 266 yards per game and scored an average of 52 touchdowns a year on the ground.
At Taylor, Medlock plans to study Art Education.