Oldenburg Academy graduate Curt Eckstein is having a great collegiate cross country career at Purdue.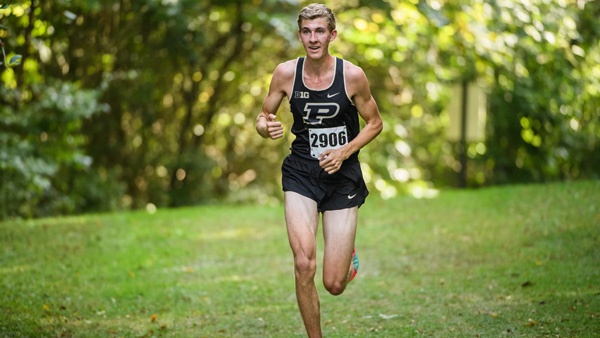 (West Lafayette, Ind.) – Curt Eckstein won a cross country state championship when he was a student at Oldenburg Academy.
Now, he's helping the 18th-ranked Purdue University cross country team enjoy one of its best seasons ever.
Eckstein, a sophomore for the Boilermakers, finished ninth overall at the 2018 Big Ten Cross Country Championships on Sunday. Eckstein crossed the finish line in the 8K in 23:47.7 – 51 second better than his time as a freshman.
Purdue teammate Jaret Carpenter led the Boilermakers with a fifth-place finish.
The performances helped Purdue become the Big Ten runner-up, behind only Wisconsin. It is the team's best finish at the conference meet in 33 years.
"I am very happy and proud of our men's team," head coach Norbert Elliott told PurdueSports.com. "This was a momentous day for us to earn the best men's finish since 1985. We were able to place Jaret and Curt on the podium with top-10 finishes. They have been consistently strong all season, and today proves that it was no fluke. Congratulations to coach (John) Oliver for getting them ready."
Eckstein has been a star for Purdue Cross Country. In 2017, he was the Big Ten Freshman of the Year after placing 16th at the Big Ten Championships.