The EC boys and girls were crowned champs at the EIAC Meet over the weekend.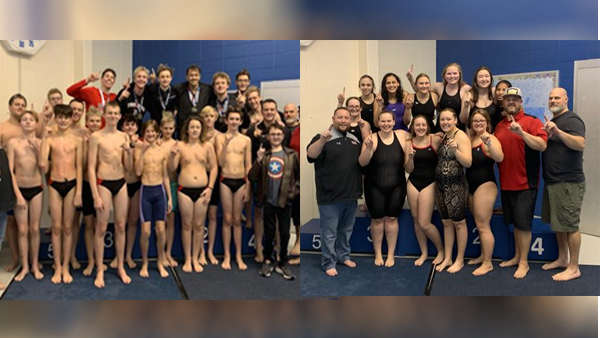 Photos by EC Athletics.
(St. Leon, Ind.) - It has been a banner year for the East Central High School boys and girls AquaTrojans.
East Central's boys and girls both captured EIAC titles over the weekend.
Boys Scores: East Central 434.5, Batesville 229, Greensburg 196, Connersville 152.5, South Dearborn 94, Lawrenceburg 24
Girls Scores: East Central 317, Connersville 282, Batesville 192, Lawrenceburg 155, Greensburg 131, South Dearborn 104
AquaTrojan swimmers broke three records on their way to capturing the conference championship.
Boys 200 Medley Relay (Nick Weber, Skyler Cavins, Ray Krider, Henry Strotman) EIAC CONFERENCE RECORD
Boys 200 Free Relay (Ayden Ketchem, Kaden Cummins, Henry Strotman, Nick Weber) EIAC CONFERENCE RECORD
Boys 400 Free Relay (Ayden Ketchem, Kaden Cummins, Ray Krider, Skyler Cavins) EIAC CONFERENCE RECORD
Other conference champions included:
Girls 200 Medley Relay (Tara Hall, Emily Hafertepen, Sam MIttermeier, Bruner)
Boys 200 Free - Kaden Cummins
Boys 200 IM - Skyler Cavins
Boys 50 Free - Nick Weber
Girls 1 meter diving - Bree Cleary
Boys 100 Fly - Ray Krider
Girls 100 Free - Sam Mittermeier
Boys 100 Free - Nick Weber
Boys 500 Free - Kaden Cummins
Girls 200 Free Relay (Sam Mittermeier, Reagan Reany, Bruner, Tara Hall)
Girls 100 Back - Tara Hall
Boys 100 Back - Ray Krider
Girls 100 Breast - Emily Hafertepen
Boys 100 Breast - Skyler Cavins