Trojans fans can come meet the players and coaches, and grab a bite to eat, too.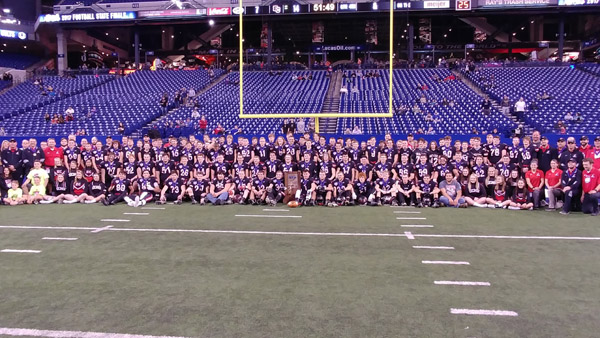 East Central High School's 2017 state championship team. Photo by Eric Thomas.
(Greendale, Ind.) – You can dine with the defending state champions at Buffalo Wings & Rings in Greendale.
The East Central High School football team opens their season on Friday, August 17. The 2017 IHSAA 4A State Champions will begin their title defense against in-county rival Lawrenceburg.
The restaurant will host an EC Trojans Pep Rally and Meet the Team Fundraiser on Thursday, August 9 from 5:00 until 9:00 p.m.
A donation will be made to the EC Football Boosters from all dine-in sales that evening, says restaurant manager Amy Rosenberger.
Chef Buffalo will also be making an appearance.