Your Hometown Radio Station is bringing you more games than ever this season thanks to a Saturday slate of games at Lucas Oil Stadium.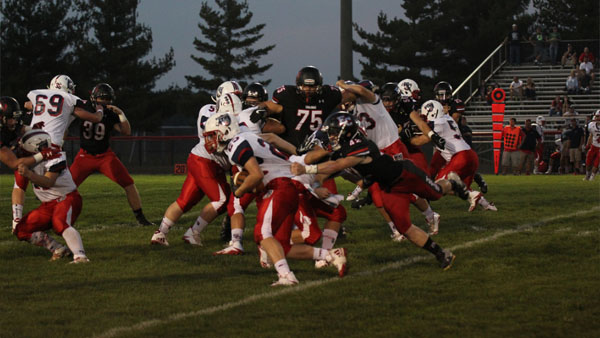 South Dearborn at East Central on Friday, September 27 is just one of the great matchups on the broadcast schedule this fall. File photo.
(Lawenceburg, Ind.) – Friday night lights will be shining bright a month from now.
Eagle Country 99.3, home to southeast Indiana's best local sports coverage, will kickoff the high school football season on Friday, August 23, when the Lawrenceburg Tigers host EIAC rival East Central.
The station has been providing excellent coverage of high school sports in Eagle Country for more than 40 years.
Returning to the broadcast booth this season is Eagle Country 99.3 news and sports director Mike Perleberg and his long-time colleague Chuck Thomas. "Double T" Travis Thayer and Lawrenceburg teacher and coach John Blackwell also return.
This season, Eagle Country 99.3 will bring fans an extended schedule thanks to a Saturday slate of games at Lucas Oil Stadium in Indianapolis.
But first, we broadcast the "War of I-74" from St. Leon on Friday, September 6. East Central has won six of the last 10 against Harrison, including a 49-17 win last season.
We'll have two games from Lucas Oil Stadium on Saturday, September 7. First, South Dearborn battles Batesville at 5:30 p.m., followed by Lawrenceburg and Milan at 7:40.
East Central and South Dearborn renew their rivalry on September 27. It will be the first meeting between the two teams since the Trojans' controversial 9-7 win over the Knights in the sectional semi-final a year ago.
Then, the regular season wraps up on October 18 when Lawrenceburg hosts South Dearborn. The Knights snapped a three-game losing streak to the Tigers last October with a thrilling 20-14 overtime win.
The full broadcast schedule is listed below.
2019 Eagle Country 99.3 High School Football Broadcast Schedule
Friday, August 23 – East Central at Lawrenceburg – 6:40pm
Friday, August 30 – Lawrenceburg at Taylor (Ohio) – 6:40pm
Friday, September 6 – Harrison (Ohio) at East Central – 6:40pm
Saturday, September 7 – Batesville vs South Dearborn (at LOS) – 5:10pm
Saturday, September 7 – Lawrenceburg vs Milan (at LOS) – 7:40pm
Friday, September 13 – Connersville at South Dearborn – 7:10pm
Friday, September 20 – Franklin County at Lawrenceburg – 6:40pm
Friday, September 27 – South Dearborn at East Central – 7:10pm
Friday, October 4 – Franklin County at South Dearborn -or- Lawrenceburg at Rushville – 6:40pm
Friday, October 11 – Greensburg at EC -or- Lburg at Connersville -or- Rushville at SD -or- Providence at Milan
Friday, October 18 – South Dearborn at Lawrenceburg – 6:40pm
Friday, October 25 – IHSAA Sectional First Round – TBA
Friday, November 1 – IHSAA Sectional Second Round – TBA
Friday, November 8 – IHSAA Sectional Championship – TBA
Friday/Saturday, November 15/16 – IHSAA Regional – TBA
Friday/Saturday, November 22/23 – IHSAA Semi-State – TBA
Friday/Saturday, November 29/20 – IHSAA State Finals – TBA