Another Lawrenceburg Tigers football star will play at the collegiate level.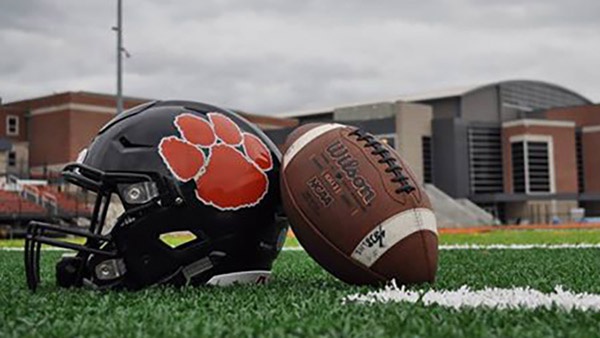 (Lawrenceburg, Ind.) - A Lawrenceburg Tigers football star will stay in state to play his college football.
Brayden York took to Twitter on Monday to announce his commitment to Marian University.
York starred for the Tigers on the offensive and defensive line as a junior and senior. Offensively, he was mostly used as a blocker, but has shown the ability to be a pass catcher and playmaker with 12 career receptions for 240 yards and three touchdowns. Defensively, York totaled 41 career tackles, six for a loss, and five sacks.
As a senior, he was named to EIAC All-Conference and the IFCA Region 10 All-Star Team.
Committed 🔵🟡⚔️⚔️ Thank You!!!@StinnToWin @lhstigercoach @CoachHenn pic.twitter.com/R9sKQgHlVK

— Brayden York (@braydenyork44) February 1, 2021
Very proud of @braydenyork44! Congratulations young man! https://t.co/DmtK7Yk0w2

— Ryan Knigga (@lhstigercoach) February 1, 2021
Congratulations to @ethan_parris52 & @braydenyork44 for being selected to the Region 10 All-Star Team. Go Tigers! pic.twitter.com/TzLM0eLRpf

— Ryan Knigga (@lhstigercoach) February 1, 2021