Dr. Rolf performs all rotator cuff repairs using the arthroscope.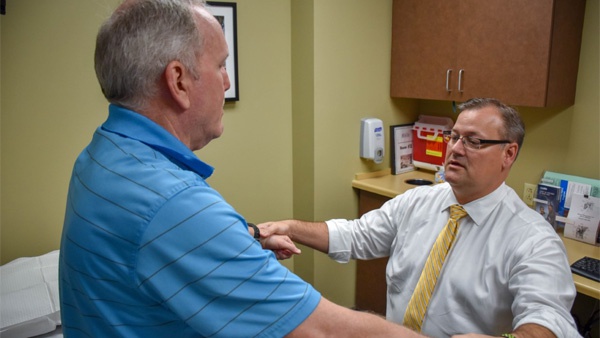 Dr. Rolf with a patient. Photo provided.
Have you ever heard of the rotator cuff? Would you know it if you injured one of yours? Clearly, the shoulder is used for a wide range of activities that can cause a wide variety of pain. Some activities include throwing a baseball, golfing, playing tennis, or doing yard work and gardening, just to name a few. But, what part of the body actually enables that shoulder to do all of those things? It's the rotator cuff. And a common source of pain in the shoulder is from rotator cuff inflammation or a tear. It's not just something that happens to professional athletes. "Shoulder pain from rotator cuff injuries is very common," said Dr. Robert Rolf from Beacon Orthopaedics & Sports Medicine. "Knowing when to see a physician will allow for faster treatment and healing, which often helps avoid further or more significant damage."
Background
The rotator cuff is comprised of four muscles that attach the scapula (shoulder blade) to the humerus (upper arm). You won't need to know this for the test, but these muscles are the supraspinatus, infraspinatus, teres minor, and subscapularis. These tendons form a "cuff" of tissue that is responsible for "rotating" the arm. The most commonly injured muscle of the rotator cuff is the supraspinatus, although any of the rotator cuff muscles can be involved in a tear. Rotator cuff tears can vary in size and location. Size, location of the tear, chronicity and patient lifestyle demand will determine the appropriate treatment plan.
Common Symptoms of a Torn Rotator Cuff
• Shoulder pain at night
• Decreased range of motion
• Pain radiating down the upper arm
• Weakness or pain with overhead activities (e.g. reaching a top shelf, throwing a softball, combing hair)
• Pain when reaching behind the body (e.g. fastening a bra strap, reaching into the backseat)
Rotator Cuff Injury Treatment Options
As with most injuries, there a number of treatment options, depending on severity, mobility and the patient's individual situation. For the most part, choices include:
• Ice
• Anti-inflammatory over-the-counter medicines
• Physical therapy
• Corticosteroid injections
• Surgery
While most rotator cuff tears can be treated successfully without surgery, surgical procedures for rotator cuff tears have become much less invasive over the past several years. Dr. Rolf performs all rotator cuff repairs using the arthroscope. "Arthroscopy has become the gold standard for treating rotator cuff tears," said Dr. Rolf. "Not only can we fix the rotator cuff through small incisions, but in patients with poor tissue quality, we can also enhance the biology of the repair by using special anchors, grafts or the patient's own growth factors." Through those small incisions, a camera and special instruments are inserted to visualize and repair the rotator cuff, causing less tissue damage and enabling a faster recovery.
If you or someone you love is experiencing these symptoms, it may be a rotator cuff injury. Diagnostic appointments are available at Beacon West, Lawrenceburg and Batesville, along with Saturday morning injury clinics and urgent care at Erlanger and Summit Woods.
Go to www.beaconortho.com or call 513-354-3700 for an appointment. All 13 Beacon locations are seeing patients. Striving to ensure patient and staff health, Beacon offers Telehealth Video Visits and when seeing patients in person, they are using all approved safety protocols, including temperature checks, masks, hand sanitizing. Providing a safe environment to diagnose and recommend the next steps for any injury is always the right thing to do.