Don't avoid being seen by a medical professional for fear of potential surgery.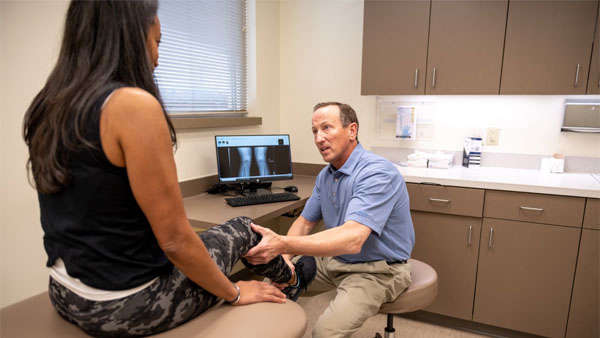 Dr. David Argo with patient. Photo provided.
As we are now fully immersed in the post-pandemic summer of 2021, many of us may have pushed through nagging pain in an effort to just continue being together and being outdoors. Ignoring pain is never a good plan. It may be time to treat the ongoing knee pain that may have burdened your summer activities. "A lot of the patients I see at this time of year are experiencing knee pain," said Dr. David Argo from Beacon Orthopaedics and Sports Medicine. "Historically, they just wanted to get through a sports season or go on vacation, but this year that avoidance may have been heightened." So even as we all safely return to competitions, running, yard work, traveling and playing with friends and family, it may also be the right time to get some much-needed relief from ongoing knee pain.
There are several potential sources of knee pain, with the most common being an injury to the meniscus. The meniscus is sometimes referred to as the "shock absorber of the knee". It absorbs the energy of walking, running, and jumping while allowing the cartilage of the knee to do the required gliding and sliding motions. The meniscus can be injured with simple daily activities such as rising up from a seated or kneeling position, getting out of a car or truck, getting off the toilet and of course with any sports motion that involves twisting, running or jumping.
"Generally a patient with a meniscus injury has pain on the inside or outside of his or her knee making it tender to touch along the joint," Dr. Argo said. Other symptoms include a swelling or feeling a fullness in the back of the knee. Along with the pain or discomfort, this can cause difficulty moving to the side, twisting, bending or even letting their knees touch while simply trying to sleep. People may experience a "catching", "locking" or "popping" sensation in their knee with walking, squatting or kneeling.
The best way to prevent injury to the meniscus is to avoid loading or bearing weight at the same time as twisting the body. When you get up from a chair, out of a car, or off of your four-wheeler, try pivoting your body to stand straight up without twisting. But as with any situation, diagnosing the problem early is critical. Don't assume you will need surgery. Even if there is a meniscus tear, there are many treatment options depending on the size and location of that damage. Other treatments include ice, anti-inflammatories, physical therapy or corticosteroid injection.
Don't avoid being seen by a medical professional for fear of potential surgery. However, even if it is severe enough to require surgery, it's important to know that the procedures for meniscus tears have become much less invasive recently. "Now, I perform all meniscus surgeries using the arthroscope," said Dr. Argo. "I am able to make small incisions instead of one large, usually more invasive one." Through these small incisions, a camera and special instruments are inserted to allow the doctor to visualize the meniscus and repair or remove the torn tissue. Essentially, this technology causes less damage and enables a faster recovery.
If you are experiencing knee pain and think your meniscus may be injured, remember there are options available. You do not have to "just live with" knee pain. Nor is surgery a must. Beacon Orthopaedics treats patients of all ages for various injuries and ailments – including treating knee pain. If you or someone you love is experiencing pain (whether from a sports injury or just usual exertion), you can always schedule a diagnostic appointment at Beacon West, Lawrenceburg and Batesville, or come to one of their Saturday morning injury clinics, or urgent care at Erlanger and Summit Woods.
Go to www.beaconortho.com or call 513-354-3700 for an appointment. All 15 Beacon locations are seeing patients.