Will East Central win the sequel over county rival South Dearborn, or can the Knights pull off the big upset?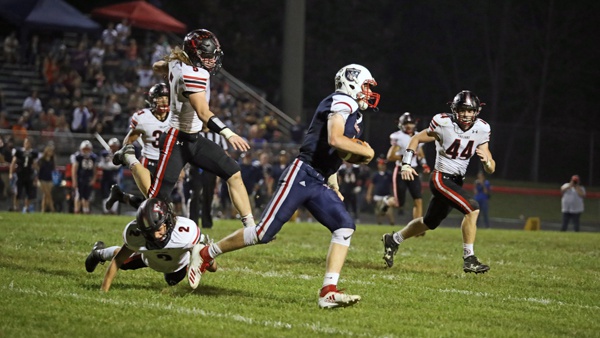 Photo by Sandy Mahoney.
(St. Leon, Ind.) – After defeating Franklin County in a blowout in the opening round of the IHSAA Football State Tournament Sectionals last week, there may be no more "gimmies" for the East Central High School football team if they are to repeat as the 4A state champions.
Case in point: the 8-2 South Dearborn squad. The Knights will pay a visit to the 9-1 Trojans for their second meeting in as many months Friday.
East Central hosts South Dearborn in a game on the Trojan Field turf at 7:00 p.m. Eagle Country 99.3 have live coverage of the game starting at 6:40, with Mike Perleberg and Chuck Thomas announcing.
"They definitely have a great program and are a good football team, but you know what, we are, too. It should be a good night out at St. Leon," says South Dearborn head coach Rand Ballart.
LISTEN TO EAGLE COUNTRY 99-3'S INTERVIEW WITH RAND BALLART.
EC defeated South Dearborn 42-12 in their first meeting this season, back in Week 6 in Aurora.
South Dearborn is healthy on the defensive side of the football, which is a big reason they have the 3rd-ranked scoring defense in Class 4A this season. Austin Terrill and Zach Dick are two seniors who anchor the stingy Knights D.
On offense is where the question marks lie for South Dearborn. Their leading rusher, Dalton Guthrie, will be out with an injury. Starting quarterback Adam Dixon has been battling an injury himself. Ballart is murky on who will start under center: "We'll see what happens come 7:00."
If Dixon can't go, it may be QB Trey Theis, who led SD to a win over rival Lawrenceburg, calling the shots from under center. Speedy junior Timmy Dick has filled in admirably for Guthrie by averaging 8.1 yards per carry with four touchdowns, complimenting fullback David Blair.
But East Central has proven again this season to be reliable for a tough run game and a tough defense. East Central is allowing only 10 points per game to opponents thanks to a defense led by middle linebacker Brett Fox with 55 tackles and defensive ends and siblings Gaar and Gage Ertel.
On offense, senior quarterback Alex Maxwell is making a strong argument for EIAC 4A Offensive MVP. He has 894 passing yards and eight passing TDs, while also rushing for 956 yards and 25 scores. Kudos to the offensive line of Cole Rosfeld, Anthony Bartholomew, Michael Medlock, Hunter Tidwell, and Cody Bentley, plus tight ends Zach Henson and Luke Collinsworth.
South Dearborn has not won a game against East Central in 24 straight tries.
The winner of Friday's sectional semi-final game will play the winner of Edgewood at Silver Creek in next week's sectional championship game. Each of those teams are currently 7-3.