Hear the game live on Eagle Country 99.3. Coverage begins at 6:40 p.m.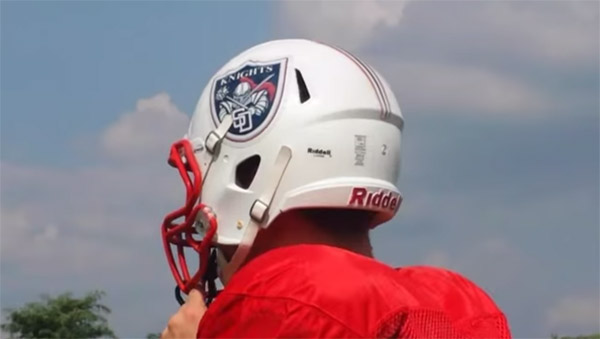 (Aurora, Ind.) - Don't look now but the South Dearborn High School football program is on the rise.
It's been a rough few years for the Knights as they haven't won more than three games in a season since 2011. A win Friday night at Connersville would improve South Dearborn's record to 3-1 this season, continuing upward momentum within the program.
"It's been a rough few years," said Knights head coach Rand Ballart. "I took the program over in 2015 and the freshman class that year was a really solid class. They've taken their licks for the last two years, three years. This year, they have really bought in to the program. They've stepped up and its been a great year so far."
Listen to Eagle Country 99.3's interview with South Dearborn head football coach Rand Ballart.
The Knights senior class may have taken their licks in the past, but this season they are dishing out the hits. South Dearborn comes into Friday night's contest boasting the state's sixth best scoring defense, allowing just 2.3 points per game. The past two weeks, the Knights have outscored their opponents 62-0.
"Our defense has been a backbone of our program," said Ballart. "About three years ago we put this defense together and we put these kids over there. We're a two-platoon system, so our kids don't play both ways."
Defensively, the Knights are led by seniors Zach Dick, Axel Bell and Austin Terrill, who was just named the EIAC Football Elite Athlete of the Week. The three have combined for 62 tackles so far, and have helped hold opposing offenses to just 179 yards of total offensive per game.
On offense, South Dearborn has used a balanced attack so far in 2018. Junior quarterback Adam Dixon enters Friday's game with 533 passing yards and five touchdowns. The Knights also get great contributions in the run game from Dalton Gutherie and David Blair.
As for Connersville, they are off to an 0-3 start. The Spartans have struggled on both sides of the ball. So far, Connersville has managed to score just 10.3 ppg, while their defense has given up 38 ppg.
The winner of tonight's contest will score a big conference win in the EIAC 4A Division. A win for South Dearborn would be their first conference win since 2015 and would snap a modest two-game losing streak to Connersville.
You can hear the game on Eagle Country 99.3. Live coverage from Connersville begins at 6:40 p.m. on 99.3 FM and www.eaglecountryonline.com.