The Shiners went 4-19 a year ago, but with many varsity contributors back Rising Sun could surprise in 2020-21.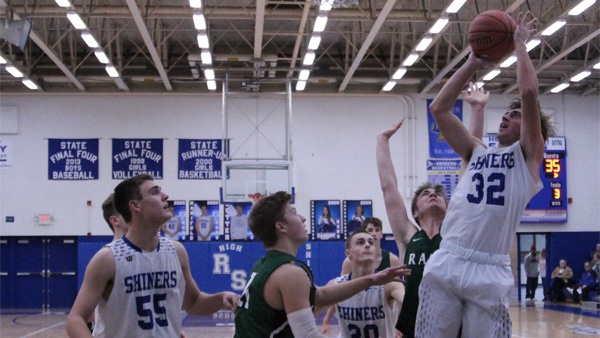 Landon Cole (right) goes up for a lay up against South Ripley. Photo by Mason Uhlmansiek.
(Rising Sun, Ind.) - A new era of Rising Sun basketball begins Tuesday.
The so-called "Butcher Ball" style under previous head coach Rick Scholl is gone, and the Shiners will move to a more up-tempo style kind of game under new head coach Brandon Snodgrass.
Coach Snodgrass inherits a Shiners team that went 4-19 last season, averaging only 43 points per game. With many varsity contributors back and a new, more aggressive style of play, Rising Sun could see that win total shoot up in 2020-2021.
"I'm very blessed and overwhelmed with the talent I'm coming into," said Snodgrass. I have a lot of great athletes."
One of those great athletes is senior Landon Cole. Not only is Cole the all-time leading goal scorer in the history of the Rising Sun boys soccer program, he is also the top returning scorer for the Shiners basketball team. As a junior, Cole averaged 11.3 points, 3.7 rebounds, 1.8 steals, and 1.7 assists per game.
"Landon is definitely a leader through all the struggles they had last year he kept them together," said Snodgrass. "And so far working with them has been great. All the players are yes sir, no sir type players, and the parents have done a great job with these kids and I'm looking forward to seeing what we can do with our new style this year."
The Shiners also return seniors Chase Kuehn and Chris Bowne. Both players averaged 5.1 points per game a season ago. Kuehn is expected to play some point guard, while Bowne is Rising Sun's best outside shooter.
Peyton Merica leads a strong sophomore class. He averaged 7.0 points, 2.3 rebounds, and 1.3 assists as a freshman. Fellow sophomores Brady Works and Dylan Martin are expected to have increased roles at the varsity level.
Junior Damon Carrigan will also be in the rotation.
"I have a really good sophomore class and a couple juniors," said Snodgrass. "So I have a lot of talent. I have a really, really good strong freshman coming in as well."
When asked about Rising Sun's rivalry with Switzerland County, Coach Snodgrass had the following response:
"It's been around for awhile. I'm guessing it's going to be a battle and I'm looking forward to being part of this series."
HEAR DOUBLE T'S FULL INTERVIEW WITH SHINERS HEAD COACH BRANDON SNODGRASS IN THE AUDIO PLAYER BELOW
Rising Sun will open up the 2020-21 season on Tuesday, November 24 when they host the South Dearborn Knights.
"I'm expecting a lot of jitters between both teams. Both teams have new coaches. I think it might take a quarter or so for each team to kind of figure out the other team's philosophy and method. And after that I think it will be a high-pace game," said Snodgrass.
Eagle Country 99.3 will have full coverage beginning at 7:10 p.m.
RELATED STORIES
Rising Sun Hires New Boys Basketball Head Coach