Eagle Country 99.3 will have full coverage of the Regional Championship on Saturday starting at 5:40 p.m.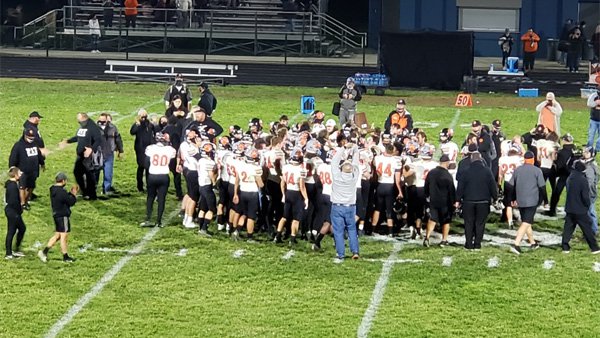 Lawrenceburg celebrates their Sectional Championship win over Franklin County. Photo by Travis Thayer, Eagle Country 99.3.
(Lawrenceburg, Ind.) - The Lawrenceburg Tigers have competed another season goal while keeping hope alive to accomplish their ultimate objective.
Aside from actually hitting the field and playing every game in a season surrounded by a global pandemic, the Tigers' primary goals were to win the EIAC 3A Division, a Sectional Championship, and ultimately a State Championship.
Two of those goals have been completed after Lawrenceburg defeated Franklin County 49-12 in the Sectional Championship last Friday. It was the 20th Sectional title in program history, and the second in a row for Ryan Knigga's Tigers.
Lawrenceburg is now three wins away from achieving their ultimate goal, but the road to Indianapolis will get a lot tougher starting this week when the Tigers host Southridge in the Regional Championship.
"That's the goal of every team when you start the season, said Coach Knigga. "We've been fortunate enough to win sectional championship number twenty in our program's history last Friday at Franklin County. We're one of eight remaining and we're excited to host Southridge in The Pit."
The Raiders enter Saturday's contest undefeated (12-0) and ranked #4 in Class 3A. They boast three 1,000 yard rushers, including quarterback Chase Taylor (1,099 yards), full back Matt Springer (1,022 yards), and wing back Camden Gasser (1,015 yards). Southridge ranks in the top 10 in Class 3A in points per game, scoring defense and margin of victory, but so too do the Tigers - setting up for a potential instant classic in "The Pit" on Saturday evening.
The Tigers come into the Regional Championship winners of 11-straight. Much like a season ago, the Tigers lost their first game of the season to East Central, then went on to win the sectional championship. Following the EC loss, Coach Knigga said his team conducted businesses as usual.
"What we talk about to our kids is that you are remembered by championships," Knigga said. "As much as we would like to beat and knock off East Central, that's not a championship game for us. We talk about moving on and having a short memory, and we were able to do that. It's been a fun ride."
HEAR BUBBA BO's FULL INTERVIEW WITH COACH KNIGGA IN THE AUDIO PLAYER BELOW
To keep the ride going, Coach Knigga says the Tigers must be able to stop the run against Southridge's Shotgun, Wing-T style offense.
"Southridge is very fast. They like to attack you in the alleys with their jet sweep. They got some guys that can flat fly. We're going to have to tackle. We're going to have to keep these guys bottled up and limit their speed somehow. We think we have a good game plan. I think our kids will play well and execute it," said Coach Knigga.
Lawrenceburg's defense has been among the best in Class 3A all season long, ranking in the top 10 in scoring defense, allowing only 13.9 points per game.
The Tigers offense isn't too shabby either, averaging 39 points per game, which is good for 5th in 3A. When facing a high-powered offense like Southridge, some might suggest keeping the ball away from their offensive playmakers. At Lawrenceburg, their style is to simply score points.
"We want to keep the ball, but at the end of the day our philosophy is to score points. If that means it takes two seconds, seven seconds, three minutes, we've had drives over 12 plays, that's what we'll do," said Coach Knigga.
Lawrenceburg scored on all seven of their drives against Franklin County a week ago. Their quickest drive was four plays. The longest was 11.
Perhaps the degree of difficulty will be a step up this week as Southridge boasts one of the top defenses in Class 3A (10.2 points allowed per game). The Raiders have not allowed more than 28 points in any contest all year, and have shutout four opponents.
The winner of Saturday's contest will take on either #5 Danville or Sullivan for a chance to go to the State Championship.
Eagle Country 99.3 will bring you the Regional Championship from Lawrenceburg on Saturday, November 14 beginning with pre-game coverage at 5:40 p.m. Kickoff is scheduled for 6:00.